Artists: Here's How to Get the Most of Your Online Portfolio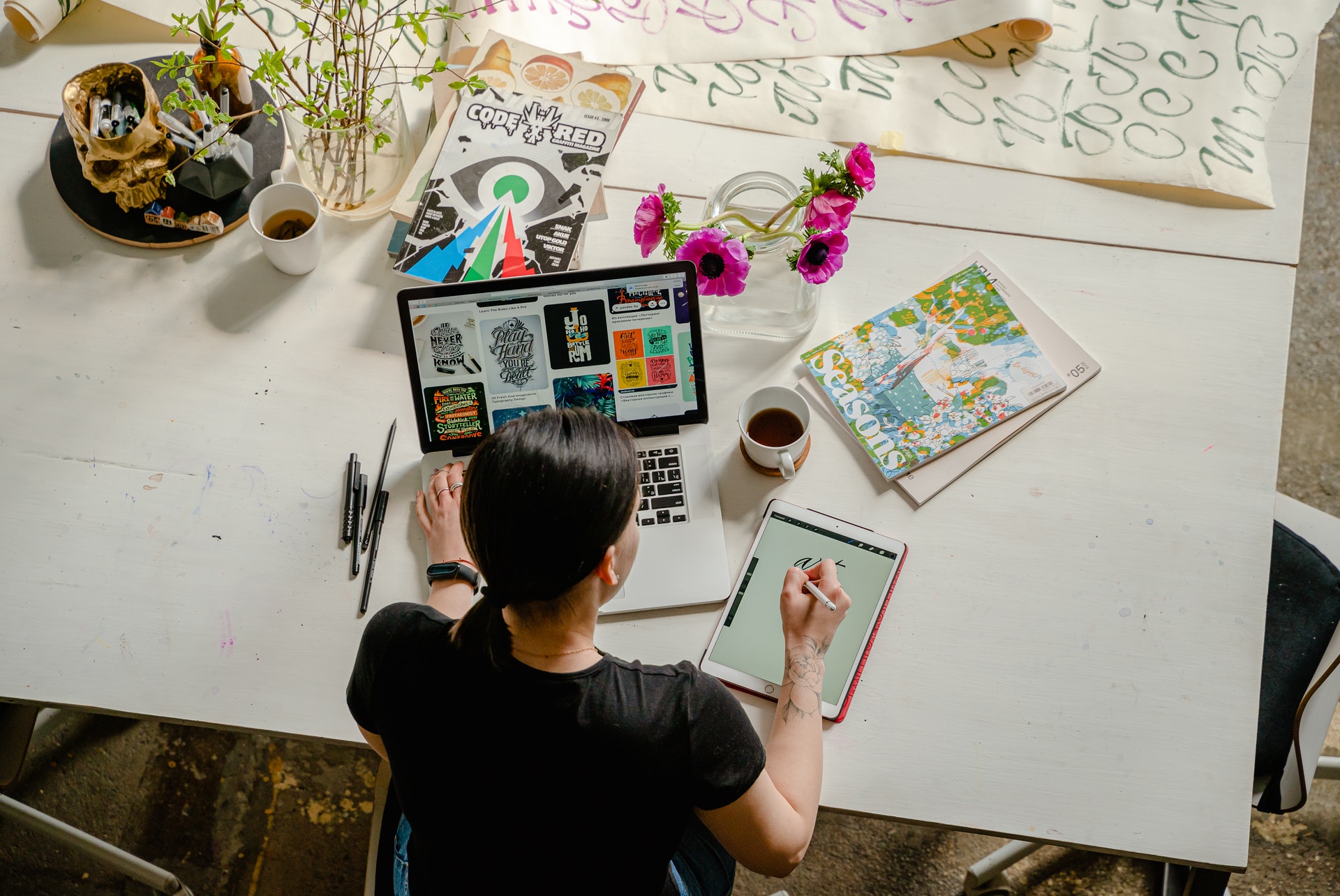 So, you're an artist. Do you paint stunning landscapes? Are you a photographer who shoots striking portraits? Maybe you're a sculptor known for your precise ceramic works or multimedia masterpieces. No matter what kind of artist you are – you need a portfolio website. Think of your website as your digital calling card as an artist. It's an opportunity for people to see all of your artwork and learn about you as an artist. The main difference between an artist's online portfolio and a studio visit is, of course, that your website is always open, and anyone from anywhere in the world can come in.
You probably have a lot of questions. How does one go about making a portfolio website? What should your website look like? How much information should you include? Do you need a website and a social media presence? We answer these questions and more.
Getting Started with Your Portfolio Website
Most people think they need to be tech-savvy to make a website. Thankfully, this couldn't be farther from the truth! There are a plethora of options when it comes to website building and design. There's something for everyone, from services that handle everything for you to DIY platforms that walk you through the website design process. Whichever route you choose, you must select a design template that showcases your artwork.
What's in a Domain Name?
Choosing a name for your portfolio website is a lot like choosing a business name. It's a decision that needs careful consideration. When you're just starting out as an artist, there's absolutely nothing wrong with getting set up with a free website on a hosting platform. However, once you start finding success in your career (and you will – we believe in you!), you'll want to invest in a personalized domain name. After all, there's a big difference between artistname.squarespace.com and artistname.com. Luckily, registering domain names is usually affordable, typically less than $10 a year.
Ideally, your website domain will include your name. Your name is your brand, and it's how most people will naturally search for your work. Of course, there are always exceptions. Perhaps you have a last name that's incredibly difficult to spell. Or maybe you prefer to go by a pseudonym, like the elusive street artist Banksy. Whatever domain name you choose, just keep in mind that having a catchy, concise, easy-to-remember website URL will be a huge marketing advantage down the line.
Do You Really Need a Website if You Already Have a Social Media Presence?
The answer is a resounding "yes." Social media is redefining the way the world does business.
Your website should be the heart of your online presence, and social media should be your marketing tool. The two go hand-in-hand, and both are essential to online success in the modern era. By having your own website, you have total control over your online presence, but you should use social media to your advantage. Ideally, social media should be used as a marketing platform to drive traffic back to your website.
What Your Portfolio Website Needs
While it's easy to get wrapped up in the design aspect of your website, it's essential to make sure you include a few basic elements. Otherwise, you risk turning off potential buyers and interested galleries before they get a chance to swoon over your work. Your website's first impression is crucial. The reality is, most website visitors decide in less than 15 seconds whether or not they're interested in browsing and learning more. With that in mind, let's take a look at some of the core elements your site needs.
1. User-Friendly Navigation
Remember the rule of 15 seconds? Well, if your website is too slow to load or isn't mobile responsive (meaning – it looks weird if viewed on a phone), you'll lose the majority of visitors before they even take a look at your artwork. It's essential to have a user-friendly site.
2. Your Name
As we mentioned above, your name is brand; and ideally, it'll be visible in your site's URL. Aside from the URL, your name should be visible at all times, no matter what page the visitor is on, so visitors can remember your name and associate it with your artwork. Creating a personalized logo and adding it to your website's header or footer will help accomplish this. While designing your logo, make sure your name is legible and bold and that the font and overall design flows with the style of your work.
3. High-Quality Images
You spent hours, days, or even months creating an incredible piece of art. You're proud of it, and it's essential to convey the quality of your work in the images on your website. Our advice: Do not post small, blurry, dimly lit, overexposed, underexposed, badly-cropped, or low-resolution images to your website. Also, be sure to watch out for any distracting shadows, camera flashes, or weird backgrounds.
While you can't always perfectly represent your artwork in digital form (unless, of course, you're a digital artist), you'd be surprised what a half-decent camera can do these days with the right tools. When you're taking the photos for your site, make sure that your camera settings reflect the true colors of your work. And if you need to color correct your photos before publishing them on your website? Be sure that the final image is an accurate representation of your work.
The bottom line: It's essential to honor your artwork – and your career as an artist – by investing in high-quality photography. Remember, your online portfolio is like your own personal virtual studio. People will be visiting your website to learn more about you, your art, and possibly even purchase your work. Low-quality images are a surefire way to get people disinterested faster than you can say "Jackson Pollock."
4. The Details of Your Work
You've nailed the photos of your artwork – and the details are equally important. Including features like titles, creation date, mediums, dimensions, sale price, and the story behind your piece shows that you take your work seriously – and gives you an edge when presenting your portfolio. It also makes your website more searchable through search engines like Google.
And, let's face it. Whether you're trying to sell your work or gain representation, no collector, curator, or gallery director likes to chase down artists for information.
5. Your Story
Aside from high-quality images and details about your work, an online portfolio needs to have that personal touch as well. Including an "About" section and your "Artist's Statement" is essential for the success of your website and will help boost your personal brand. What's your story as an artist? What makes you unique? These personal details will speak for you when you aren't there to carry on a conversation.
6. Your Contact Information
You can't sell anything or grow your network within the art community if people can't reach you. It's vital to make sure your contact information is easily accessible on your website. While it's a good idea to include basic contact information in the header or footer of your website, it's important to have a designated "Contact" page to remind the site visitor that you're available. If you don't want to include your personal email address or phone number, include a contact form on the page. Just be sure to check your messages regularly. You don't want to miss out on that next big opportunity or sale!
7. Working Links to Your Social Media
Beyond your website, you have an entire online presence that tells a story about who you are as an artist. And you likely put a ton of work into those platforms! So when an interested curator or potential buyer wants to learn more about you but can't find the links to your social media, or if the links are broken, they are immediately cut off from learning more about you. Taking the time to double-check that your links are working can make all the difference.
Final Thoughts
At TheArtList, we're passionate about helping artists thrive in their careers. In our upcoming Art Marketing 101 series, we'll walk you through step-by-step how to make the best online portfolio to showcase your artwork and market your work and personal brand. Subscribe to our Artist & Photographer Mailing List so you won't miss any upcoming blog posts. You'll also receive our monthly newsletter showcasing our Artist of the Month contest winners and art calls delivered directly to your inbox!
And if you're an art gallery, museum, or organization looking to promote your art calls, contests, exhibitions or events, subscribe to our Submitter Mailing List. You'll receive our monthly newsletter showcasing some remarkable up-and-coming talent, as well as the occasional discount on our promotional packages!
Related Posts: