Sandi J Ludescher
Sandia Park, NM
Sandi J Ludescher is a contemporary New Mexican regionalist painter. Her life and work is about celebration. Her work highlights the distinctness and sometimes quirkiness which is part of the New Mexican fingerprint, yet has a much wider appeal.
She also captures moments of musicians, dancers or other colorful people as well. Lines and wrinkles, scars on their faces and bodies provide roadmaps to chronicle their journeys. This is her focus.
She graduated with a BFA from the University of New Mexico in 2006. She's also worked as a professional musician and award winning journalist and photojournalist, while still painting. She was born near Chicago, but raised in southern California and moved as a young adult to the Pacific Northwest. In 1998, she moved to New Mexico as a journalist and to pursue painting more seriously. Her journalism career came to an abrupt halt shortly after September 11, 2001.
Exhibition credits include Farmington (NM) Museum and "Voices Against Racism," Canada, as well as six solo shows and many awards. Her artwork is collected globally and featured in calendars, journals, magazines and private collections.
Solo shows of her Day of the Dead series were scheduled at Fuller Lodge Art Center, Los Alamos, and the Roswell Art Museum in 2021 but have been postponed due to the pandemic. North Fourth Street Art Center in Albuquerque remains scheduled at this time for September 2021- January 2022.
Four of her paintings are under consideration for the New Mexico Permanent Collection.
How and when did you start creating art?
When I was a toddler, my parents had to put marlite- now used to make erasable bulletin boards—in our kitchen because I used to draw very large on the walls. But, I actually didn't started oil painting until I was 13. There were some stretches where I didn't work at it for a while. But, it's always been a very serious part of my life. And, even when I wasn't actively painting, I was always doing something creative.
What media and genres do you work in?
Most of my work is in oil on stretched canvas. I love watercolor, too, but I got away from it while pursuing my degree. I also love to draw. My favorite medium is charcoal but I also love water soluble graphite and inks. I am, for most intents and purposes, a figurative and portrait painter. When I began painting and lived in southern California, I painted and sold many seascapes. But, living in a desert environment, doesn't inspire me the same way, except the incredible beauty of the light.
Who or what are your influences?
People with interesting faces and stories that need to be chronicled. Colors. Things or ideas that can be stated effectively in a painting—like social commentary.
What was your inspiration for Tres Hermanas (Three Sisters) part of my Dia de los Muertos series. ?
Many New Mexicans take the celebration of the Day of the Dead very seriously, every year, there's a parade in celebration. I attend every year. One year, these women were there, individually. I was struck by the contrast and powerful visual of the red dresses. These women are not sisters by blood. In fact, do not know each other. But, they are sisters by virtue of sharing their grief and experiences of losing a loved one. The Day of the Dead is not about Halloween. It's about remembering lost loved ones and celebrating their lives.
Describe your creative process?
I don't have a formulaic way of creating art. It usually starts with an image or seeing someone who fascinates me. Sometimes, I have a title and paint to that theme. Music has always been a big part of my life, also. So, sometimes that's a catalyst. I've been told that most of my work has a narrative quality. And, I suppose that's why. After I have an idea, I work it out in my head, painting it in my mind several times before I get a canvas on the easel. If it's large, I tape newsprint on the canvas and draw it out in charcoal until I'm happy, then transfer guidelines from that. If it's smaller, I draw directly on to the canvas. I always prep my canvases with a ground so I'm not painting straight on to the stark white. Next, I block in some colors just to make sure the balance is going to be right. When I actually start painting, I do the eyes first. If they don't work, neither will the painting. I prefer to work large and in series.
What are you working on currently?
Before the pandemic, my time was pretty evenly divided between professional harp work and painting. Since I played at large gatherings and lots of hospices and assisted livings, that work came to an end in early March. Until then, my painting time had to be concentrated on producing work for my three Dia de los Muertos shows. Now, though, I am still working on some of those paintings but I've been able to do some experimental work, widen out my subjects which includes social commentary. Some of it involves collage underneath the paint. I've also been drawing a lot, largely due to the Inktober 2020 challenge and that I can't go to any live model drawing sessions.
What are your near/long term goals as an artist?
Like every other artist, to be able to have more studio time. But, my long term goal is to see my works placed in corporate, more private and museum collections.
Where can people view/purchase your work (gallery, website, etc)?
At my website: www.adifferentpainter.com
Prints and merchandise at: https://society6.com/sandiludescher
"Still Waiting " is in the Women's Caucus for Art show, "Old Myths, New Stories," opening in Colorado next weekend.
Also: www.artfinder.com/sandi-ludescher www.saatchiart.com/SandiLudescher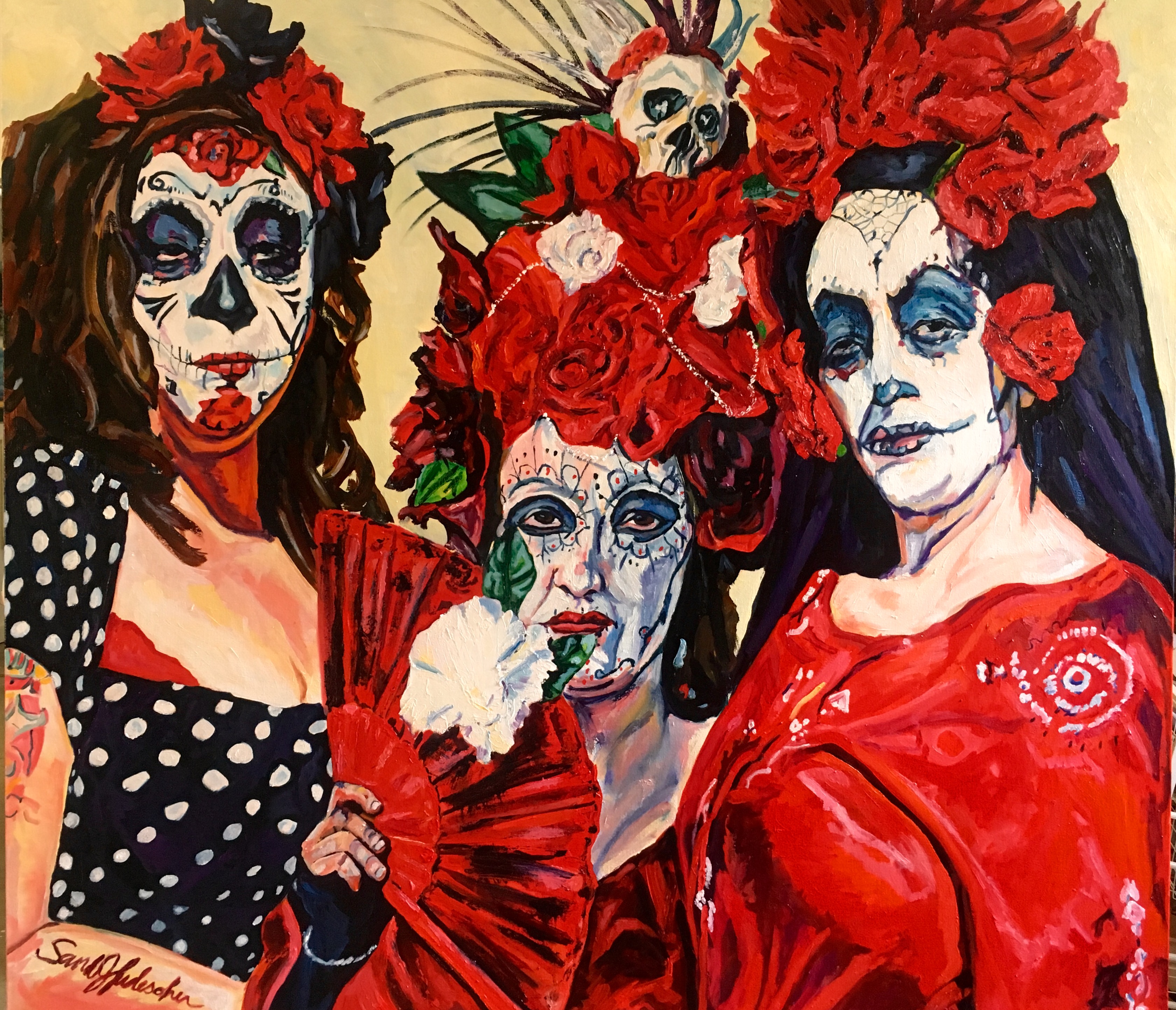 Tres Hermanas, (Three Sisters)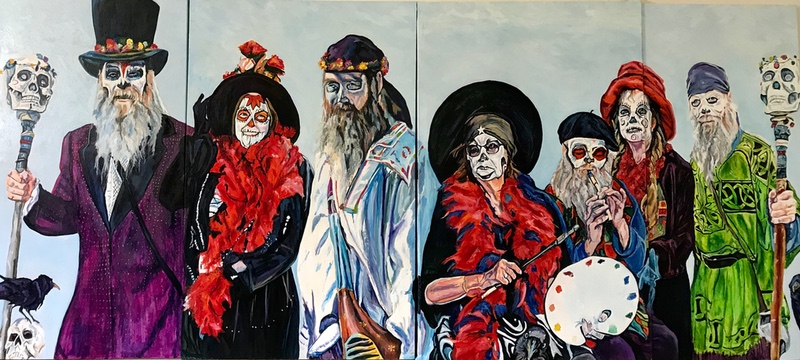 Todos Somos Uno, (We Are All One) (polytych) oil on canvas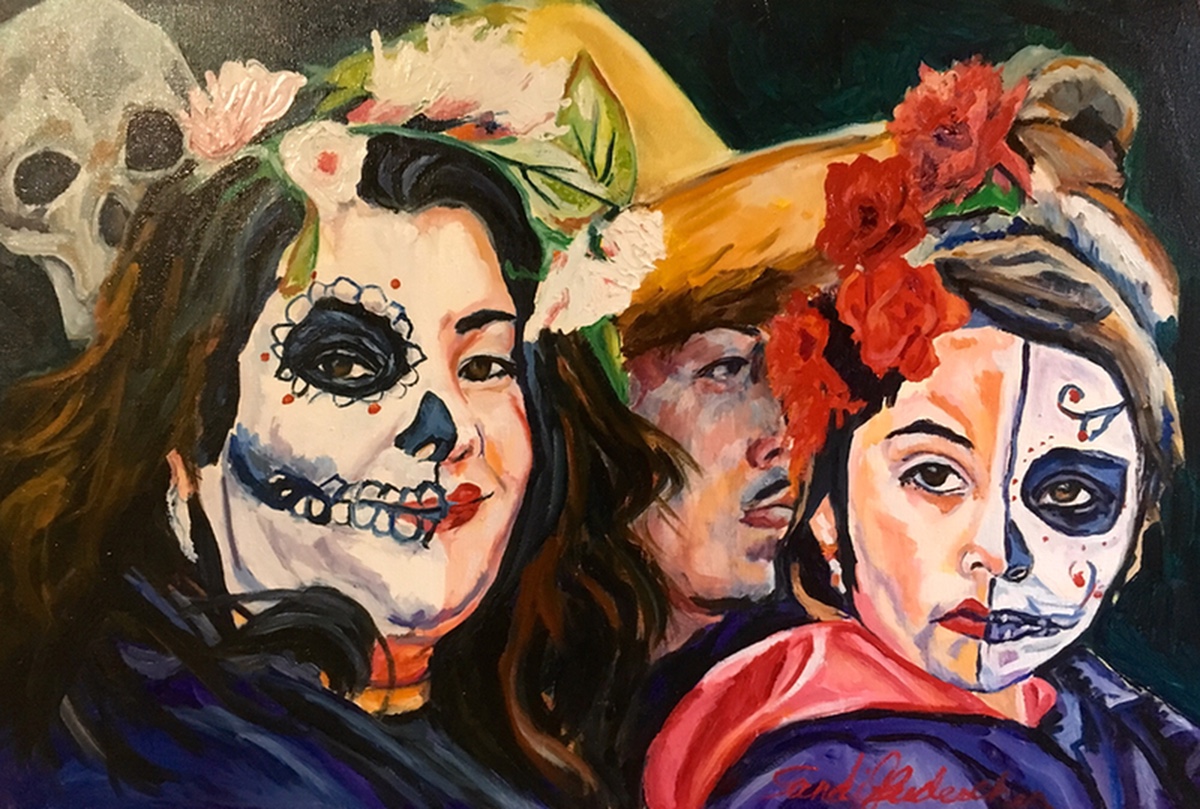 Una Familia (One Family)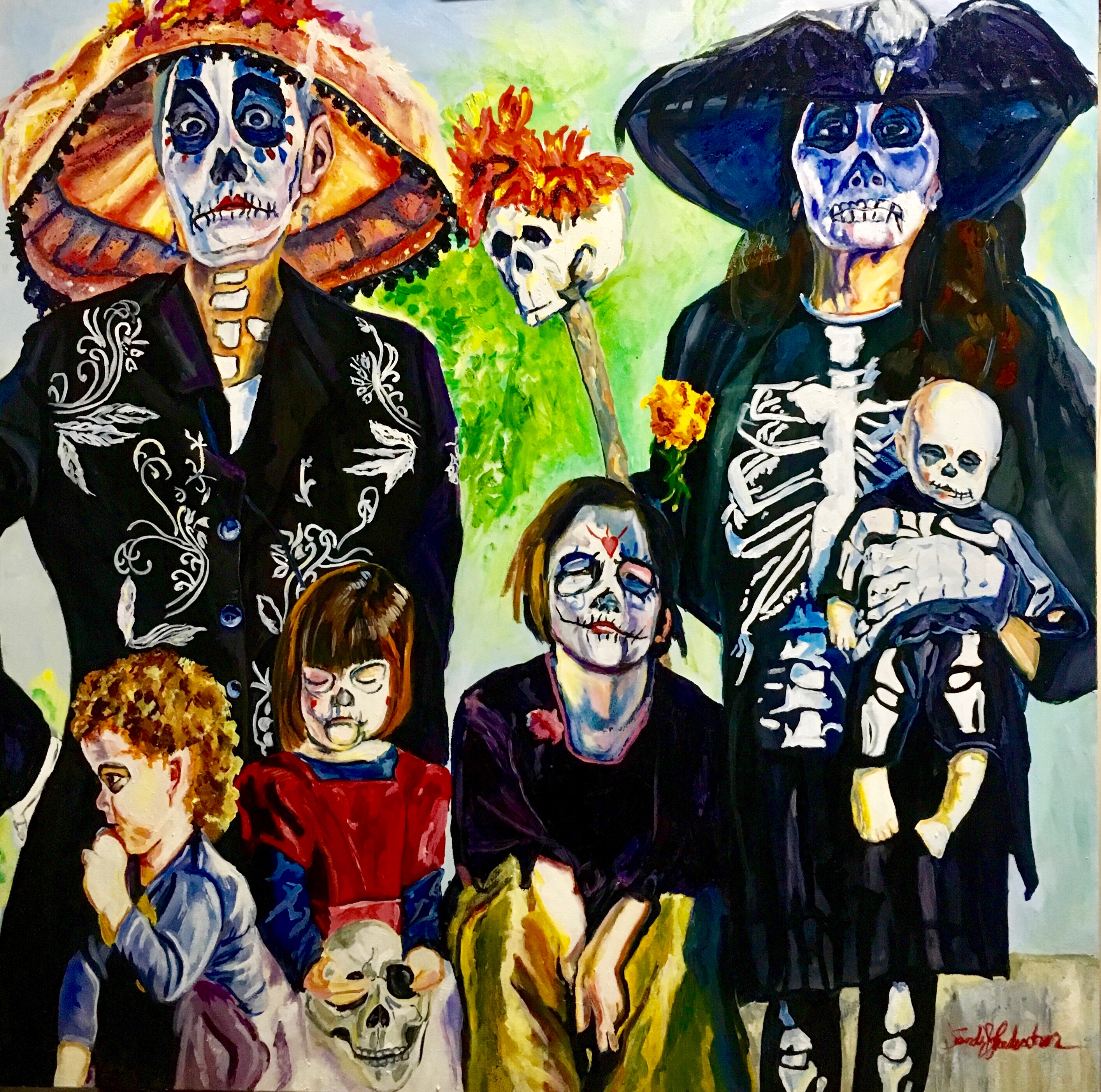 Los Tias Locitas, (The Crazy Aunties)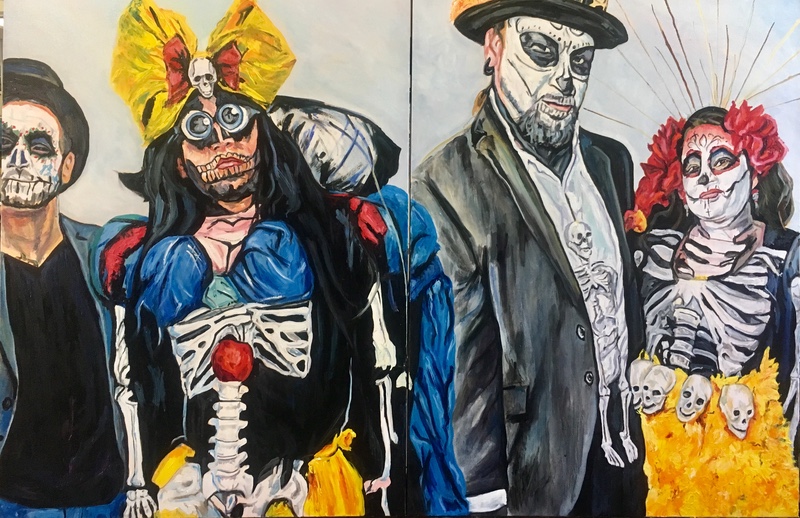 Aprender a Ser Valiente de Nuevo, (Learning to be Brave Again) diptych-each panel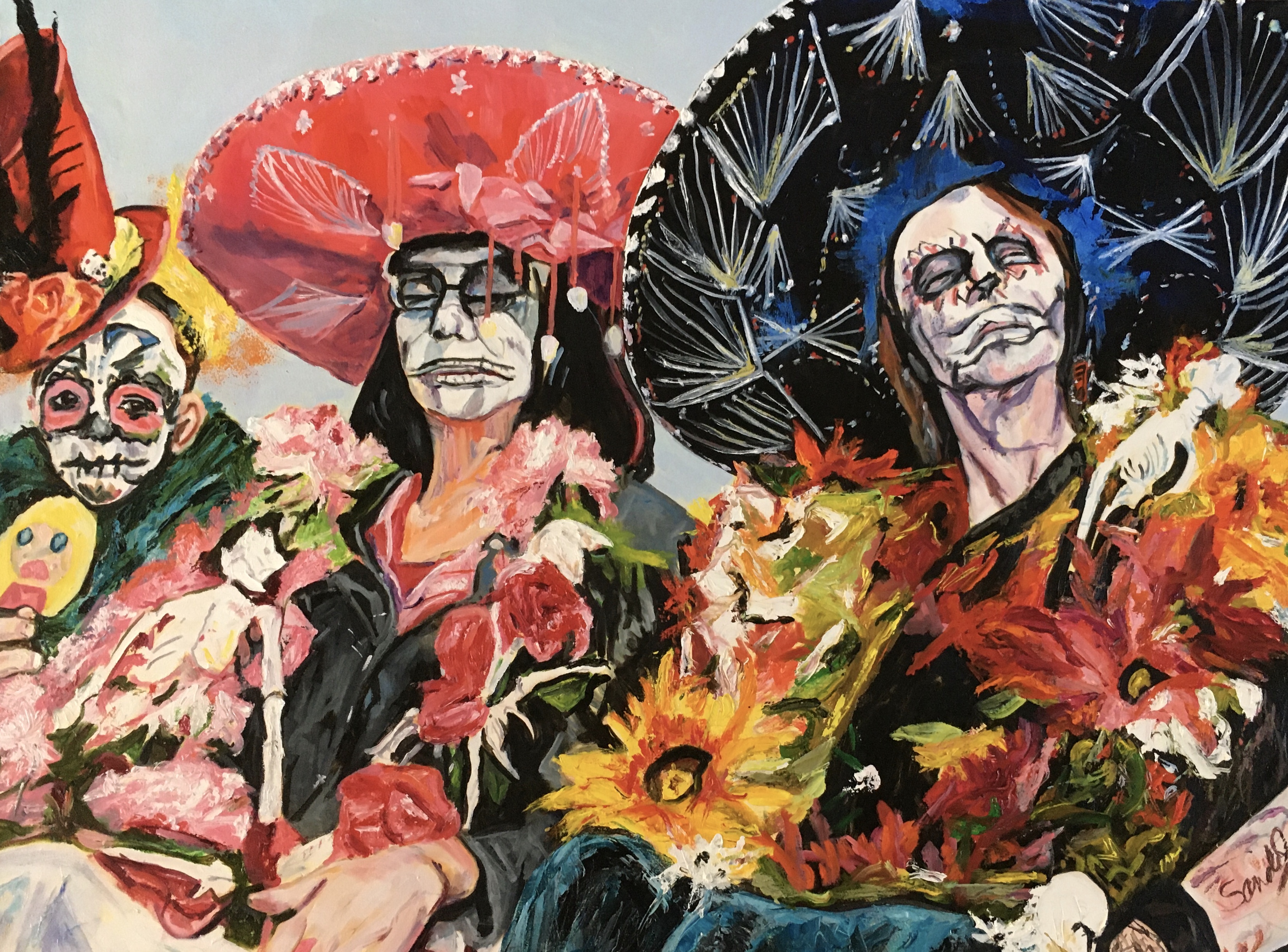 Dia del Sol, Alguien Dia, (Sun Day, Some Day)
All Images @ Sandi J Ludescher
All Rights Reserved
Artist of The Month Archives: