Kathleen O'Brien
Harrodsburg, Kentucky
Since the beginning of my art career in 1968, I have persistently empowered my life and art with the perceptible transformative presence of energy. Nature is an enduring source of inspiration, and its essence is palpable in all my work. Art is a spiritual practice that I approach with the intention to transmit the beauty I encounter. I have exhibited my artwork in over 100 venues nationally, consult and teach.
I was born in Japan and lived in Italy, Colorado and many places in between. I am primarily self-taught, and am grateful to my first teacher, my grandfather, and the classes I attended at Kunstshule Rödel, Germany, Corcoran School of Art, Washington, DC, and the Naropa University, Boulder, CO. I acknowledge my spiritual teachers, Wallace Black Elk and other Native American Elders, who impressed on me the aliveness of the Earth. I work full time from the home studio I designed and my husband built at Sunwise Farm and Sanctuary. I am a recipient of the 2012 Al Smith Fellowship from the Kentucky Arts Council.
How and when did you start creating art?
When I was 12 years old my grandfather said I was old enough to learn to oil paint. So he was my first teacher.
What media and genres do you work in?
I combine watercolor paintings, colored pencil and graphite pencil and botanicals into collage using many kinds of paper. The support painting is abstract. Often I draw a realistic bird or flower. My genre, as a friend describes my work, is dimensional art.
Who or what are your influences?
Internally I am influenced by my connection with the Source of All Life. Externally I am influenced by my parents and grandparents, the seasons, the weather, the present moment, Joseph Cornell, Henry Miller, Hermes Trismegistus, Elizabeth Frediani and my Native American Elders.
Years ago when I was meditating in my woods with my corgi, I heard a call from song birds to draw them. It was about drawing attention to and appreciating their contribution to our lives. So I wanted to create a space, an aesthetic environment where their song could be expressed and interpreted. In this imaginary world the Scarlet Tanagers are communicating about everything moving in circles and trying to be round, the magic square of 9 and the power of the triangle as all words in the grid describe the pyramids.
Describe your creative process?
Using an intuitive approach I paint freely the energy of the present moment with watercolors. I see forms emerge which I develop by more painting, drawing with colored pencils, and collageing elements like botanicals, gold leaf, translucent materials, invented script, paste papers and beeswax. With graphite I draw shadows to evoke dimension, movement and life force.
What are you working on currently?
I am doing a series of drawings over paste papers painted with marks to suggest petroglyphs that I am calling papierglyphs. Also I work to improve my writing through blogging.
What are your near/long term goals as an artist?
I would like my art to be in more public collections like hospitals, corporations and museums. I am also preparing my bundle of knowledge and materials that I will pass on to my grandson.
Where can people view/purchase your work (gallery, website, etc)?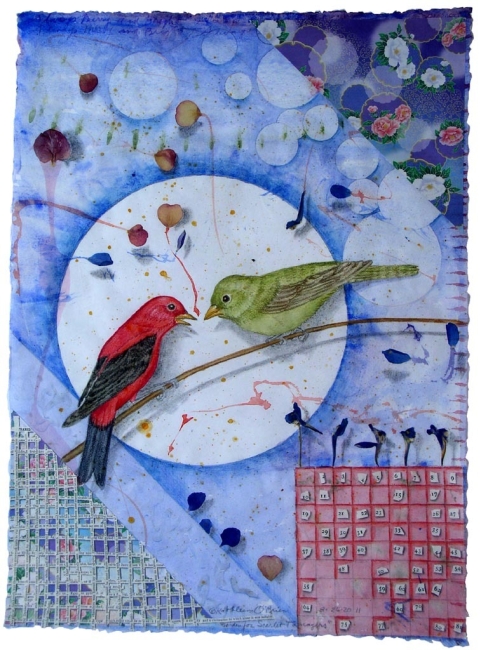 Gardens for Scarlet Tanagers, 12x19, watercolor painting on Spanish Capelledes paper with drawings of birds and details and collage of botanicals,origami paper and antique encyclopedia scraps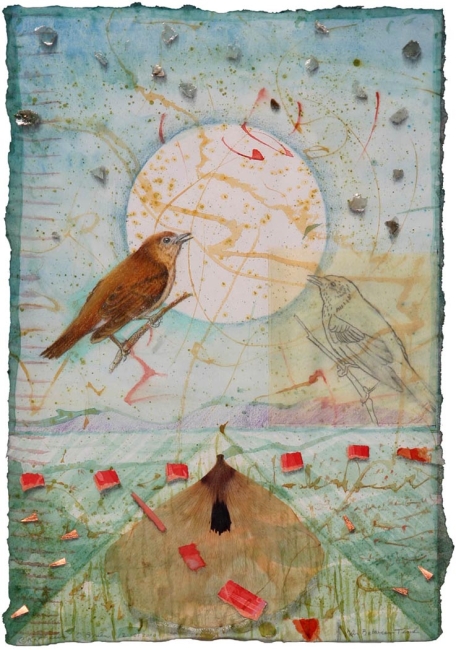 In Between Time, 9.5x12", 2011, watercolor painting on Spanish Capellades paper with drawings of birds and details and collage of botanicals and mica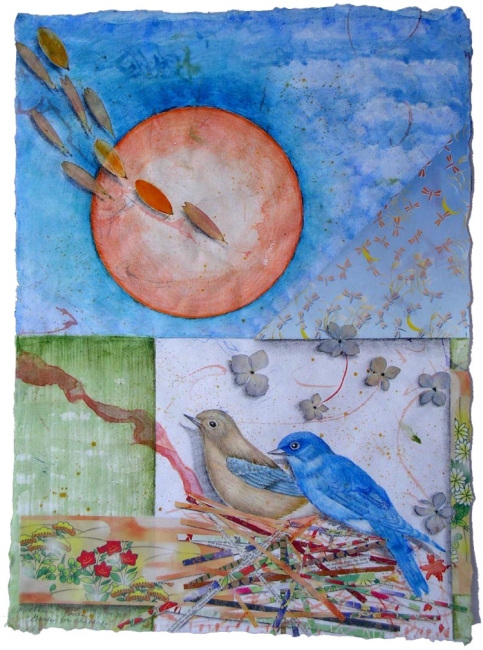 Garden for Bluebirds, 12x19", 2011, watercolor painting on Spanish Capellades paper with drawings of birds and details and collage of botanicals and origami paper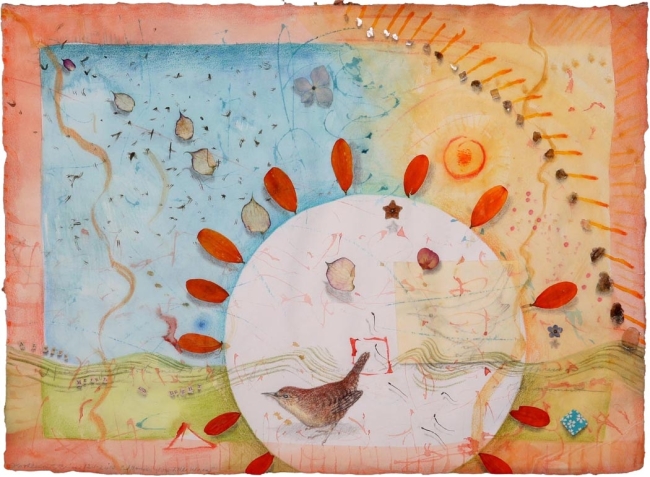 I'll Miss You, Little Wren, 19x 12", 2011, watercolor painting on Spanish Capellades paper with drawings of birds and details and collage of botanicals and mica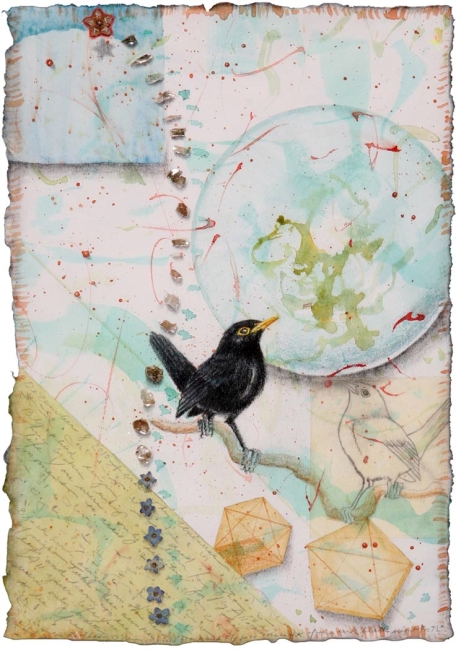 Blackbird Fly into the Light of the Dark Black Night, for J. Lennon, 9.5x12", 2011, watercolor painting on Spanish Capellades paper with drawings of birds and details and collage of botanicals and mica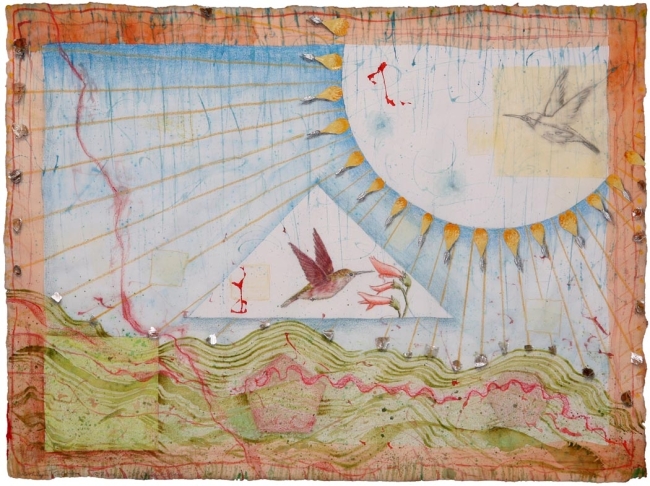 One Last Kiss, 19x 12", 2011, watercolor painting on Spanish Capellades paper with drawings of birds and details and collage of botanicals and mica
All Images @ Kathleen O'Brien
All Rights Reserved
Artist of The Month Archives: