Philip Salamone
Madison, Wisconsin, USA
Philip Salamone was born and raised in central Wisconsin and received a degree from the University of Wisconsin - Madison in Fine Arts. Seeking a greater understanding of technique and the craft of drawing and painting, he later moved to New York City to study at the Grand Central Atelier and the Art Students League, two of the world's foremost institutions devoted to teaching a classical methodology. After completing a three year program at the GCA, he returned to his hometown of Madison, WI. In an effort to cultivate a community, to teach classes and workshops, and to learn from others, he founded the Atwood Atelier, an institution devoted to teaching traditional drawing and painting from life. He now teaches at both the Atwood Atelier and the University of Wisconsin - Madison.
How and when did you start creating art?
As long as I can remember I have always loved drawing.
What media and genres do you work in?
Oil paints and watercolor, but also acrylics if the project requires it (painting murals, furniture, etc.). I also work in clay, though this is usually as a means to an end for a painting. I love portraiture, but also narrative, storytelling work.
Who or what are your influences?
I love the painters of the late 19th / early 20th century - those painters who were academically trained, but also influenced by impressionism and the early days of photography. Artists like Sargent, Zorn, Sorolla, DeLazlo, as well as the Russians of that time - Repin, Serov, Fechin. But there are so many that I love that I'm not necessarily trying to emulate as much - Caravaggio, Tiepolo, Rubens, Howard Dean, Charles White, Thomas Hart Benton, and Edward Hopper.
What was your inspiration for Tim?
I will say that over the years my inspirations have come less from other artists and more from myself and my style. It seems more and more that when I close my eyes and visualize a successful completed piece it is more in my style than anyone else's.
Describe your creative process?
I paint a lot of people from life, so before I go into class I try to visualize the story I want to tell - the pose, the lighting, and my approach. I try to choose something as a goal/focus of the piece. This can be an artist or painting I am inspired by, it can be a story or emotion I'm trying to tell. it can be about my process (edges, color, palette knife, high key/low key, etc.). It can be anything, but it's a concept that I revisit and remind myself of frequently while painting. Although I am often motivated by making a beautiful, completed painting, I often try to experiment by forcing myself into an unfamiliar place and trying something new.
What are you working on currently?
With the pandemic I am not hosting any in-person classes, so rather than painting portraits I have been working on some commissions. Currently it's two large multifigure compositions, both are heavily derived from imagination. I built clay maquettes to inform the sense of space and value structure. It is fun but very challenging.
What are your near/long term goals as an artist?
As a teacher I want to inspire people to believe in themselves, to persevere, and to make work that is interesting to them. As an artist, I'd love to make larger, more ambitious, multifigure paintings. I'd love to work more from imagination as opposed to copying nature. I'd love to know more about anatomy and teach a class in it someday. Most of all, I want to make the very best work that I am capable of, work that surprises and interests me, and is worthy of the tradition that precedes me, and that I am a part of.
Where can people view/purchase your work (gallery, website, etc)?
I have a store on my website - https://www.philipsalamone.com/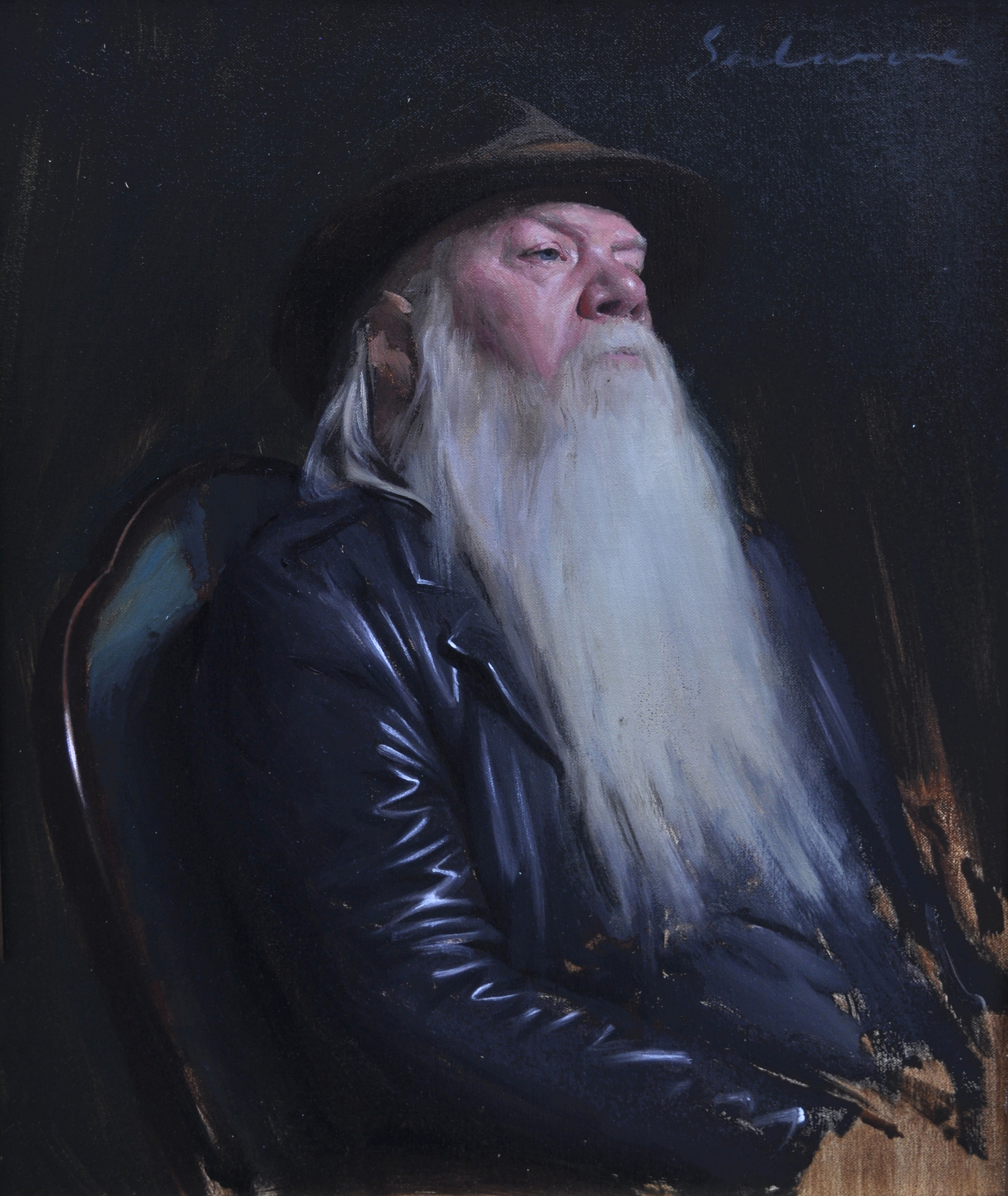 Tim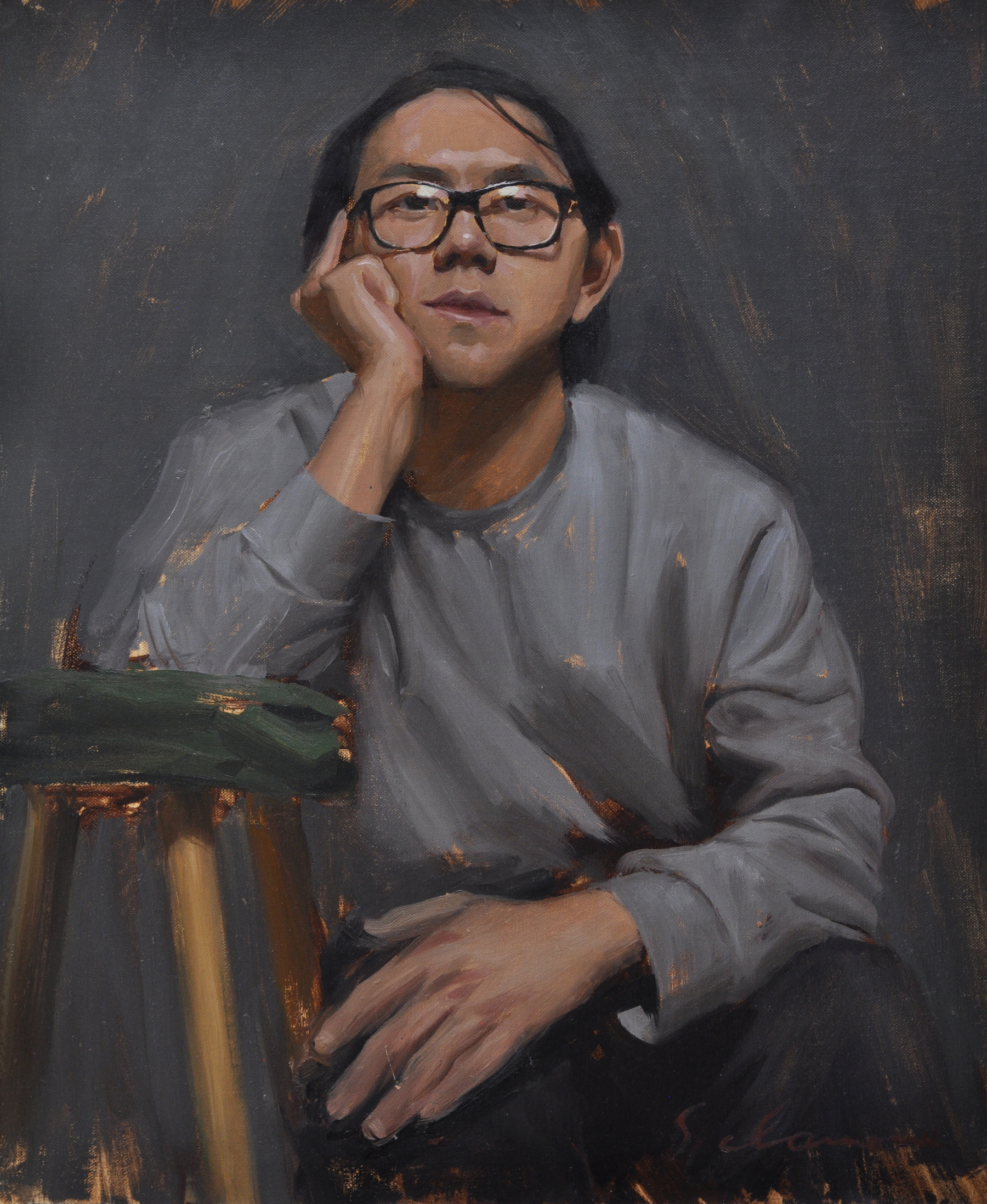 Bo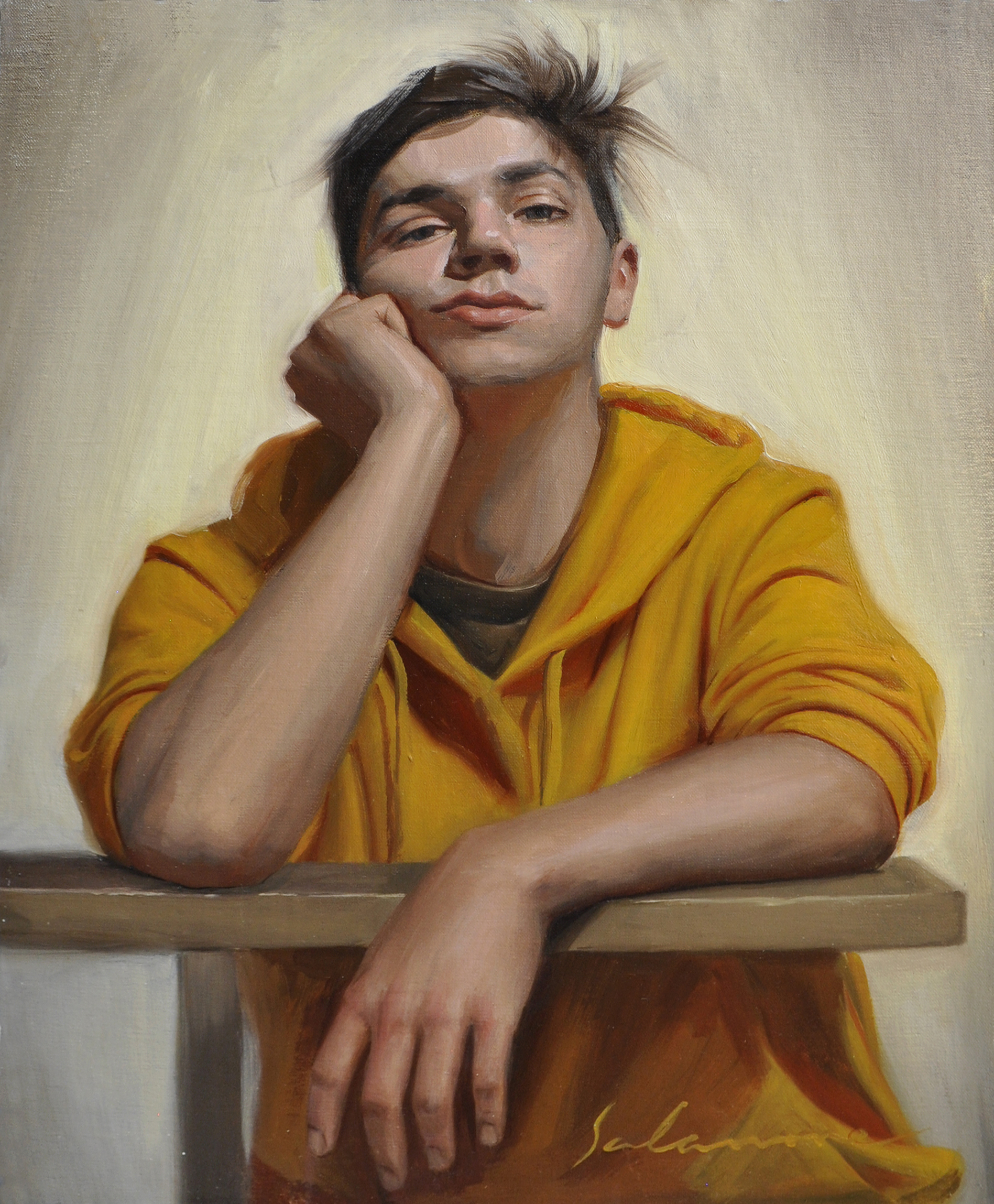 Anders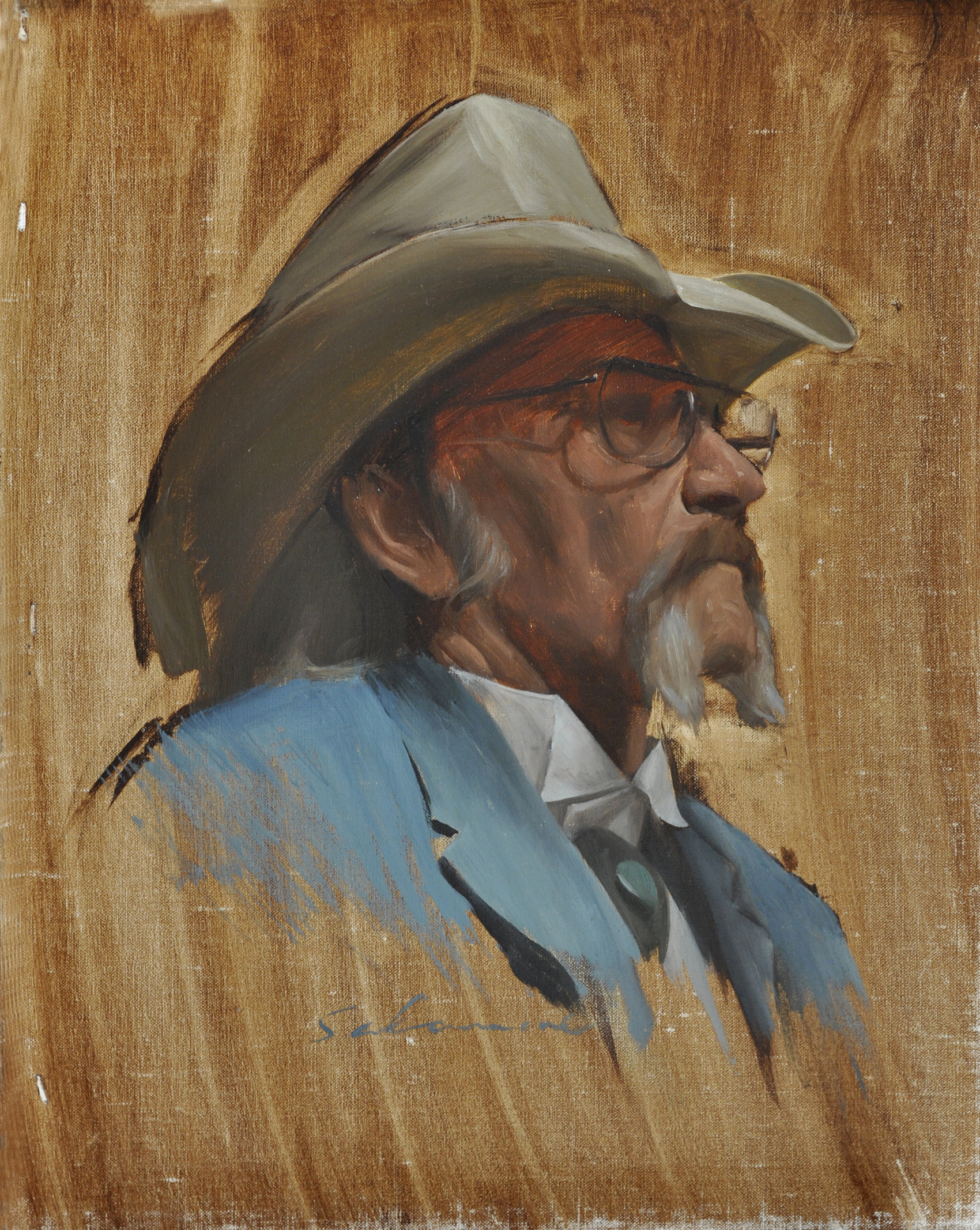 Catfish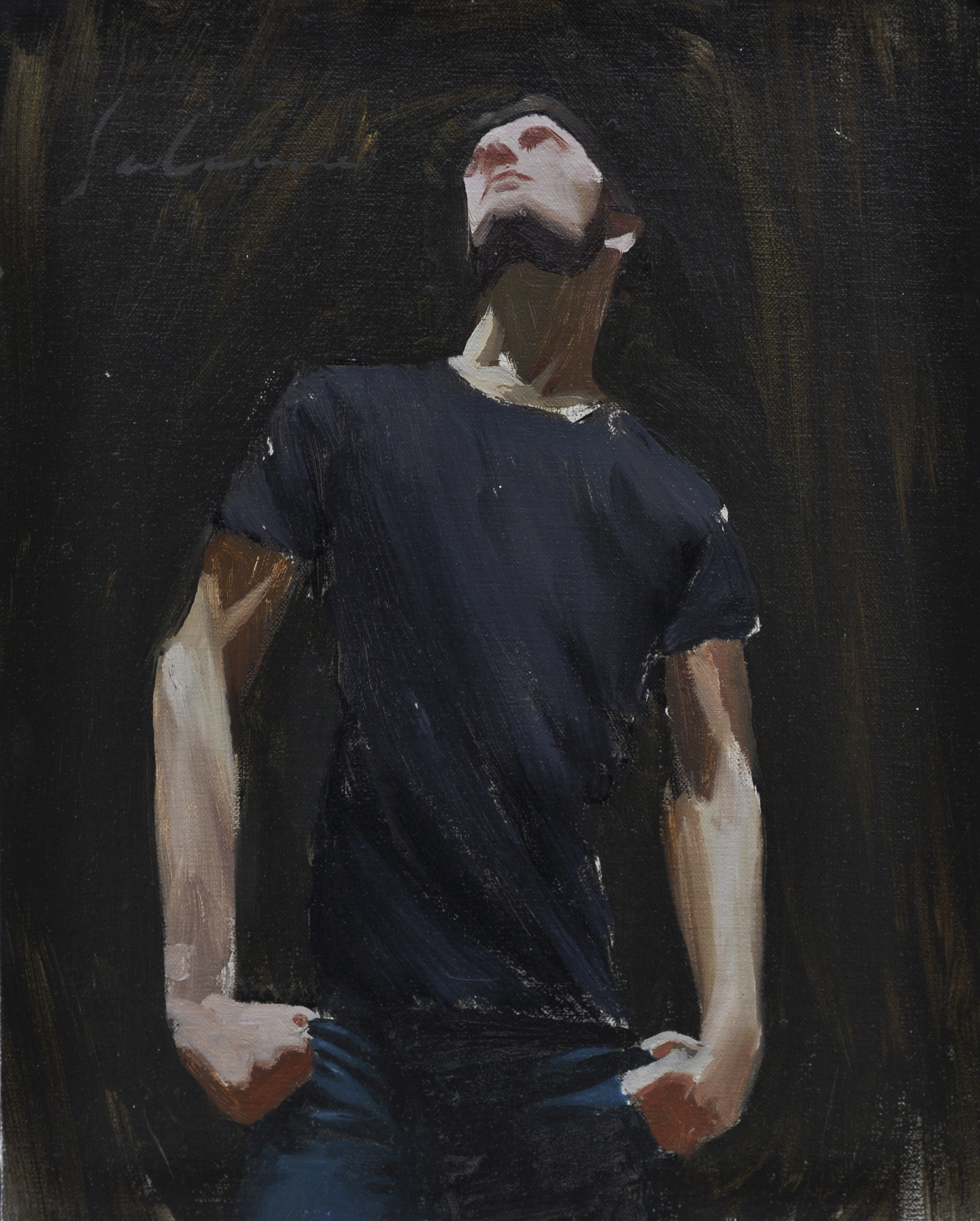 Nate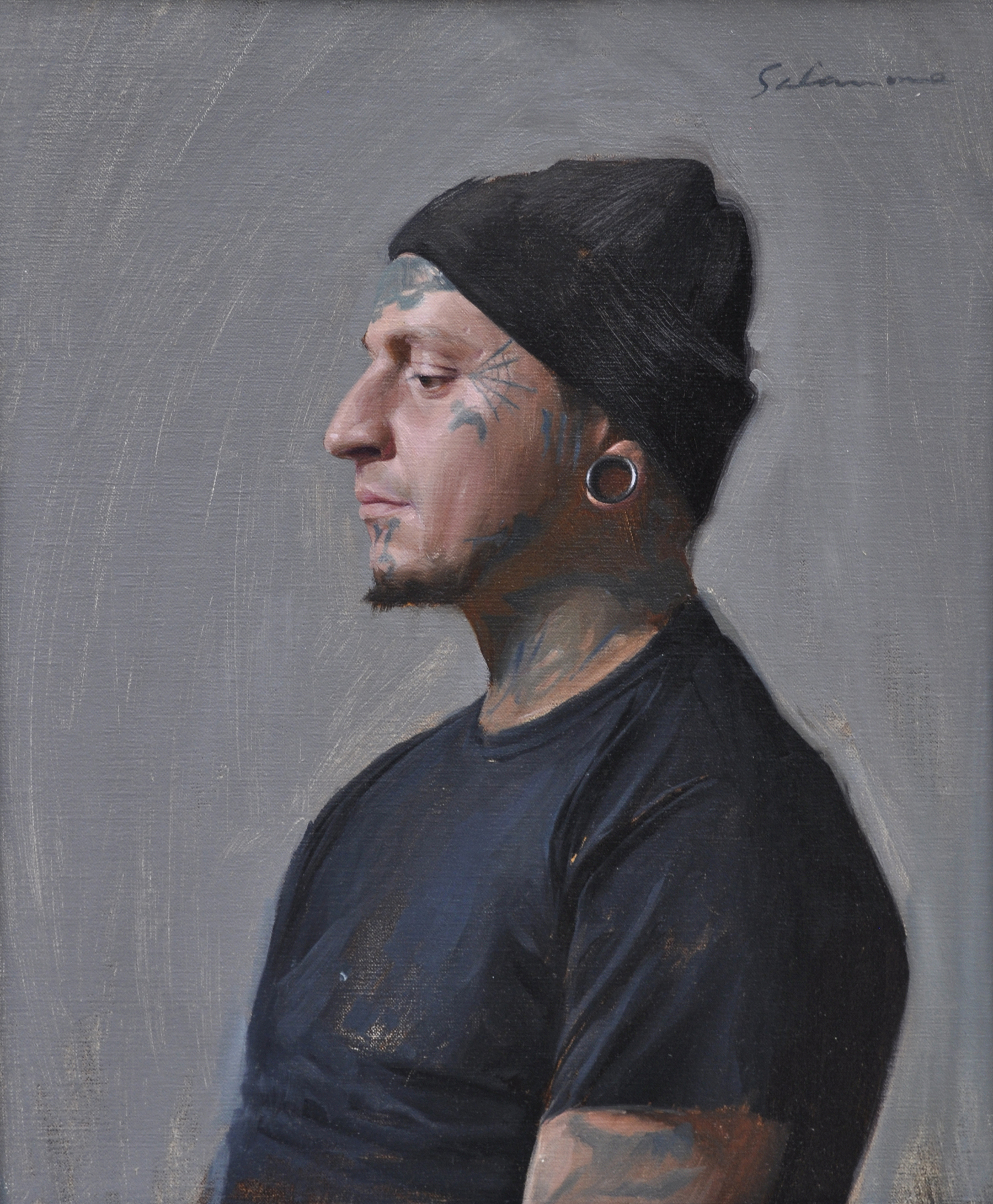 Adrian
All Images @ Philip Salamone
All Rights Reserved
Artist of The Month Archives: