Mindy Colton
Orlando, Florida, USA
Award-winning Florida artist, Mindy Z. Colton, originally from New York City, was classically trained in all the traditional arts. She pursued a career in Graphic Design & illustration while still finding time for her fine art. Mindy chose to leave behind her successful design career to follow her true passion as a full time fine artist. Her love of sculpture is where she has found her greatest artistic satisfaction and success.
Involved with horses her entire life, she chose to combine her passion for both art and horses in her unique sculptural works. She seeks to not just replicate an image of a horse, but to explore the energy, expression and beauty of horses. Much of her inspiration comes from nature and frequent travels to the west.
Mindy's journey in sculpture began with Bronze. But the limitations of the process led her to explore other materials. She has also created monumental sculptures in aluminum and copper. She has mastered a number of natural and manmade materials to create her very unique mixed media horses. Mindy has also mastered fired ceramic sculptures with steel legs.
Mindy graduated with honors from the prestigious High School of Music & Art in New York City, and attended Parson's School of Design. She earned her Bachelor of Fine Arts degree from Washington University School of Fine Art in St. Louis, and an M.A. from the University of Central Florida. She spent part of her junior year in San Miguel de Allendé, and has attended master sculptor workshops out west.
Colton's sculptures have been exhibited in numerous solo and two-person shows and more than 200 juried and group shows winning numerous awards including many Best in Shows. Her work has been featured in many publications, The Chronicle of the Horse, Horses in Art, Florida Sport Horse, Winter Park Magazine, Contemporary Sculptors, American Art Collector and more.
Mindy has been awarded six arts grants. Two of these grants were to create large-scale, outdoor sculptures exhibited at Epcot Invitational Flower & Garden Invitational Sculpture Exhibit, and at other outdoor sculpture competitions. She is very proud that she has has two sculptures in the permanent collection of Emerald Downs Racetrack as well as other private and public venues including museums and art centers.. Mindy's sculptures have been exhibited in The Boca Raton Museum of Art, The Appleton Museum, Ocala, The Mennello Museum of American Art, Winter Park, FL, The American Association of Equine Art, Georgetown, KY, The Elliott Museum, Stuart, FL, The International Museum of Art, EL Paso, TX, The Pace Performing Arts Center, Parker, CO., The Westchester Arts Center, New York, The Polk Museum of Art Outdoor Sculpture Exhibit and more. H
er monumental sculptures have been exhibited in juried Outdoor Sculpture exhibits all over Florida and Arts in Public Places programs. Mindy lives on a small horse farm in rural East Orlando with her husband, and rescue dog Bonnie and a host of wild animals and birds where she has her studio.
How and when did you start creating art?
I was always drawing and creating from my earliest memory. Especially building and constructing. Sculpture was always something I was doing in some form. When I was five my parents sent me to art classes in the children's museum at the Metropolitan Museum in New York.That was really eye opening for me. The experience there was so positive. We also had a close family member who was a professional artist, and he encouraged me and also provided guidance. Being accepted into the prestigious High School of Music & Art really allowed me develop my artistic direction. I also attended open studios at The Art Student's League of NY during high school years.
What media and genres do you work in?
I consider myself a mixed media sculptor. My life-long love of and involvement with horses drives my passion to create equine themed art. I actually began as a Bronze artist, but became frustrated with the cost, time and production complexities. I began exploring different clays, both fired and air dry and natural materials. Winning some grants for out door monumental sculptures had me creating in Aluminum and copper. This was very labor intensive. I made a series of table top aluminum ones along with my mixed media ones that I really enjoyed. My desire to create larger mixed media horses led me to carving sturdy tree limbs for legs. This allowed me to create much taller horses, but still a size that works well in collector's homes. The bodies are various archival composite materials, the surfaces vary according to the theme of the sculptures.
Who or what are your influences?
My earliest influences came from visiting the Metropolitan Museum of Art a few blocks from my home and school. Also being lucky enough to live in Manhattan I was able to go to all of the museums. Most of them were free at that time. I got to see in person some of the most remarkable artists work. Rosa Bonheur, Franz Marc, Mario Marini, Calder, Degas, Chagall and Renoir all have stayed with me as influential in my work.
What was your inspiration for Forest Dancers?
Forest Dancers is an extension of my desire to create my smaller horses in larger form. I love working with natural materials and combining them in my work. My love of nature is alway an inspiration. I live next to a state forest with nice trails and lots of wildlife. The forest is an inspiration daily. Over time and experimentation, I developed processes and materials that allowed me to make them just as sturdy as I went taller. Forest Dancer mare is a bit over five feet.
Describe your creative process?
I begin with an idea or theme. Sometimes it is an interesting item I might see in my environment or travels. I was clearing out a drawer full of old maps. Typical of many mixed media artists, I try to utilize materials instead of tossing them. The Travel Horse series began that way. I did part of my junior year in San Miguel de Allendé, and came across some Milagros charms I had saved as souvenirs. That is where the Charm Horses came from. The small ceramic horses were an extension of the spirit horses I originally made in Bronze. I was so happy to be able to create these horses solely in my hands, and also create work the is much more affordable.
What are you working on currently?
In my studio now is a new Steam Punk Watch horse, a new herd of ceramic horses, and a new large (4ft) Milagros charm horse.
What are your near/long term goals as an artist?
My goals are to keep creating unique work. I am also working long-term on creating an interactive sculpture garden in a nearby small town that has been very supportive of me as an artist. They purchased one of my monumental sculptures.I planted the idea seed three years ago for an accessible art walk. It will be a touchable sculpture garden called Touch Me! They have sponsored and installed one of my heavy bronzes, and two more will be the start. The art will be installed at a low height, reachable by small children and people in wheelchairs, and will also have braille plaques. I am hoping for more art to be sponsored over time for the sculpture walk. I am assisting with a grant for this.
Where can people view/purchase your work (gallery, website, etc)?
Plum Contemporary Art Gallery, St. Augustine, Florida
Two Old Crows Art Gallery, Pagosa Springs, Colorado
Gallery500, Daytona Beach, Florida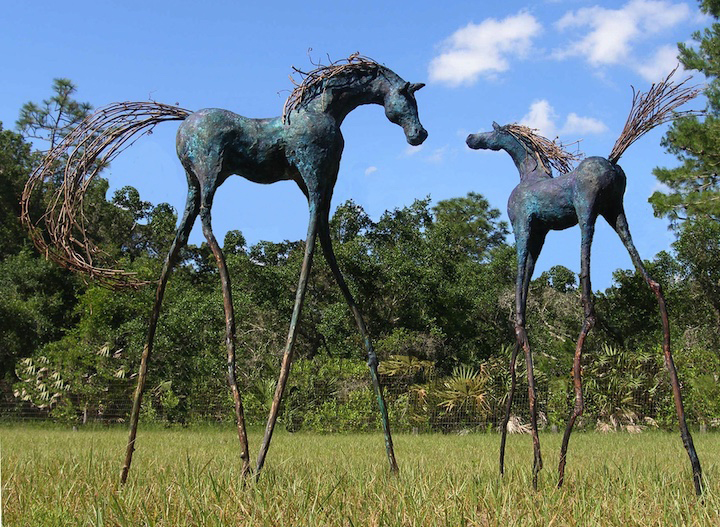 Forest Dancers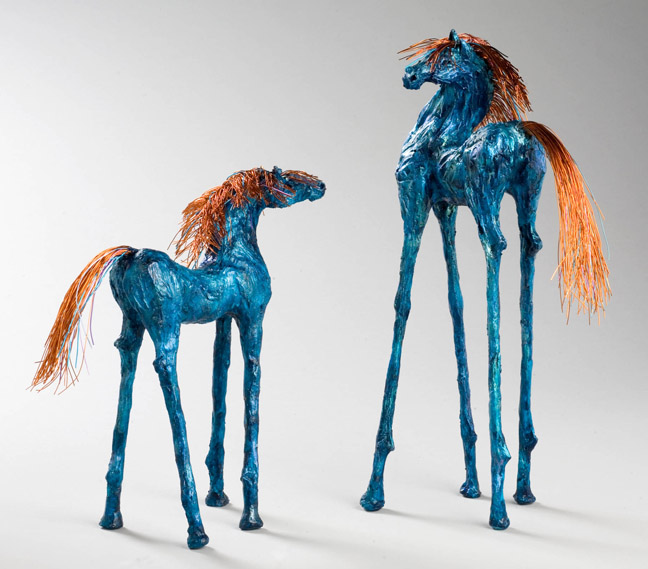 A Little Attitude
Unbridled Seas Spirit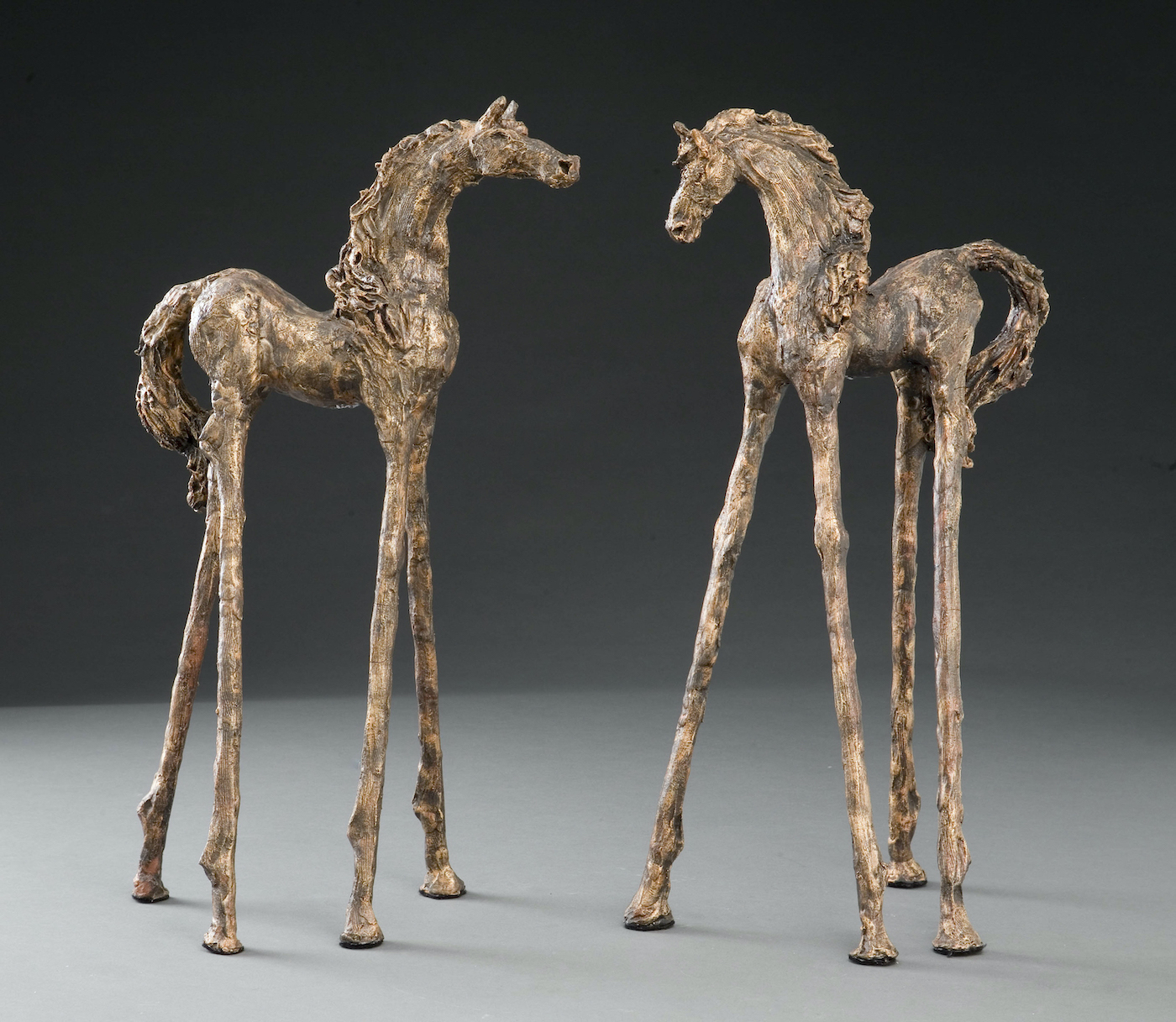 Unbridled Spirit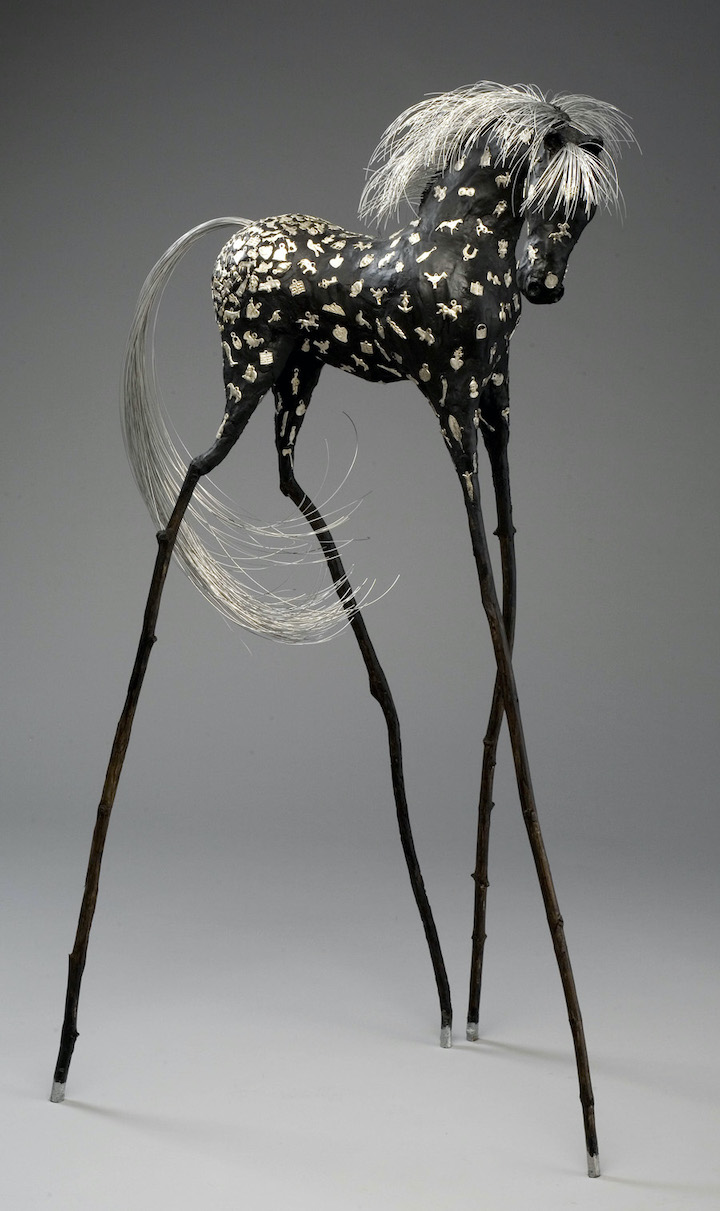 Charmed Dancer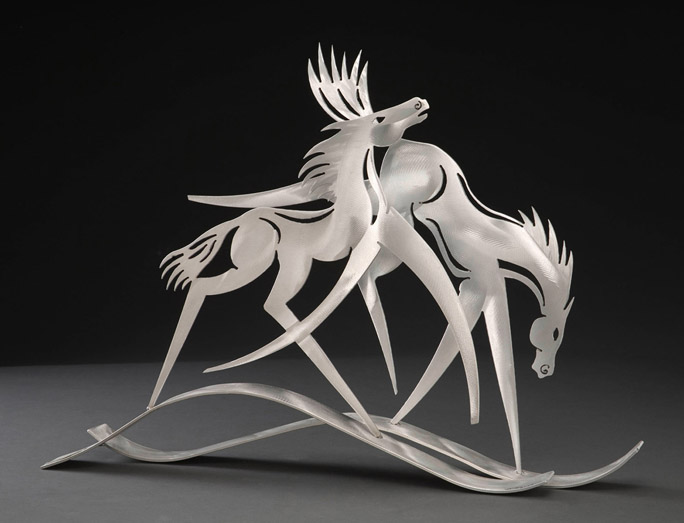 Wave Racers
All Images @ Mindy Colton
All Rights Reserved
Artist of The Month Archives: