Rebecca M. Fullerton
Boston, MA
I am a visual artist living in Boston, originally from Vermont and southern New Hampshire. I hold a Bachelor's degree in Studio Art and Art History from Hartwick College, as well as a Master's degree in Museum Studies from the Harvard Extension School. By day I work as an Archivist, taking care of historical documents, photographs and other materials. All the rest of the time I am making art, running, hiking or kayaking.
How and when did you start creating art?
I have been drawing and painting since I was a very young child, perhaps four or five years old. I started taking art more seriously in grade school where I had a wonderful teacher who frequently assigned paintings based on direct observation of the scenery out our school window or objects in the classroom. We were painting and drawing from life in second grade! I've continued to create in the classroom and on my own ever since.
What media and genres do you work in?
I work primarily in watercolors and more recently in oils. Over the last few years my watercolors have swung from wild, collage-like dreamscapes to more traditional landscape paintings as I combine my love of hiking and art. During the summer I focus on landscape painting in the mountains of New England, particularly the White Mountains of New Hampshire. Each year I hike in the backcountry, taking in the dramatic scenery of the wilderness, sketching, painting, and taking photographs for later use. I am always trying to capture the special atmosphere unique to this area with its changeable weather, steep trails, and inspiring views.
About five years ago I started working in oils which are more challenging to me, but they allow me to go further with ideas and series like my more recent paintings from old family photos. These works on canvas deal with nostalgia, family history, and rural America in the 1950s. They are based on family stories and photo album fragments. Even if day-to-day life was hard, the paintings show a life of innocence. Sometimes when I paint these nostalgic scenes I show them to my mother, and she tells me a new story about our family and her life growing up. It's interesting since my watercolor works are more about my own experience. The oil paintings let me into her world in a way.
Who or what are your influences?
I've been a fan of Neil Welliver's work for years. I have also fallen under the spell of the Group of Seven painters – Tom Thomson, Lawren Harris, etc. – especially with the new show of Harris' work at Boston's Museum of Fine Arts. I'm drawn to painters who have a strong style (but they make it look easy) like Carol Marine. I'm also influenced by the art of illustration and stained glass, which is where my loves of traditional painting and design work collide.
What was your inspiration for Mount Lafayette, watercolor and gouache on paper, 2015?
Mount Lafayette is 5,000-plus foot peak which is part of the Franconia Range in the White Mountain National Forest of New Hampshire and Maine. There is a very popular loop trail that leads over this and a few other summits from Franconia Notch below. I was here in June a few years ago when the weather still had a cold, rainy spring bite to it. The clouds move fast up here and the weather changes very quickly. I tried to capture some of the delicate greens on the mountain's slopes and wisps of clouds rising off the ridge in my typical 'stained glass' style of watercolor as a form of reverence for the mountain and the wilderness it represents.
Describe your creative process?
I almost always have a sketchbook and camera with me wherever I go. I make a lot of little pen and ink sketches when I'm out hiking, or watercolor sketches if I have time. These and a few photographs eventually coalesce into an idea for a painting. If it's a watercolor piece I'll lay it all out in pencil then slowly start putting in layers of color. I usually finish it off with ink to pull the image together. If I'm working with oils I draw out the idea on canvas or board, add some complimentary underpainting layers and then start in with thicker layers of paint on top.I almost always have an oil piece and a watercolor going at the same time - one on the easel and one on my desk. If I get stuck on one of them I'll just roll across to the other in my rolling office chair.
What are you working on currently?
Last year I visited the Hokusai show at the Museum of Fine Arts in Boston with my dad. A while later we took a hike near his place in Vermont where we could see Camel's Hump from the top of a fire tower. I was commenting on how you could pay homage to Hokusai's Mount Fuji series with "Thirty-six Views of Camel's Hump," and thus a new project was born! I'm just starting into it now, but I have a couple of finished pieces already.
What are your near/long term goals as an artist?
This year I am focused on getting out in the field more to work on landscapes. I'd like to collect enough material to keep me working through the winter. At the same time I'll be getting out to a number of local art fairs and open studio events to show my work publicly. I get a huge thrill from connecting with potential collectors, not to mention from seeing work come off of my walls to go home with a new fan. I love all of my paintings, but I never have wall space to use for art I'm collecting from my friends!
In the long term I want to be a better painter in oils. I did not have much formal training in this medium so I'm catching up with a lot of good old fashioned practice. I see some residencies and travel in my future, too. A couple of major, annual blocks of time to just work would be great. I love what I do both as an archivist and an artist so I am working toward a balance of those two aspects of my life where they can share my time and energy equally.
Where can people view/purchase your work (gallery, website, etc)?
You can see my work at rmfullerton.com , where you'll find most of my work, a custom print service, and my blog. Available originals are for sale in the store there, shop.rmfullerton.com. I'm also on Instagram as @rmfullerton , which is a fun place to see some behind-the-scenes shenanigans.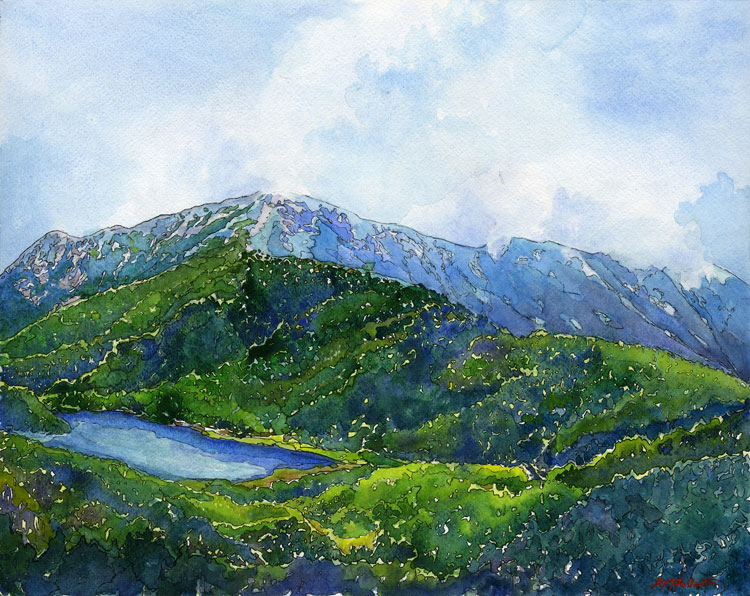 Mount Lafayette, watercolor and gouache on paper, 2015.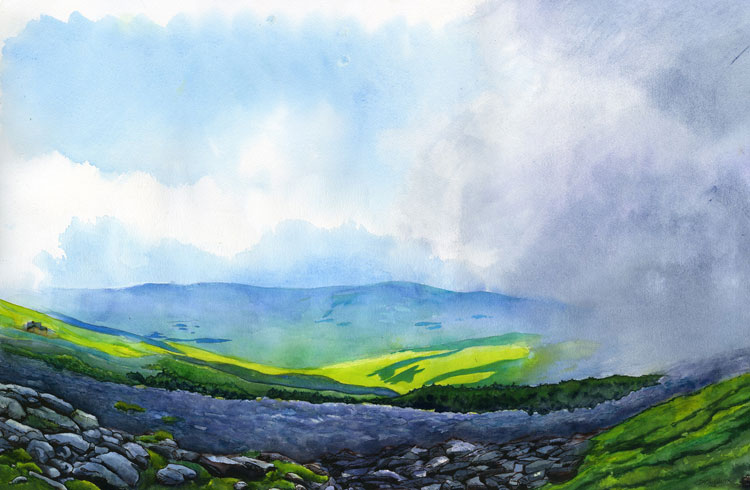 Crawford Path on Mount Washington, watercolor and gouache on paper, 2015.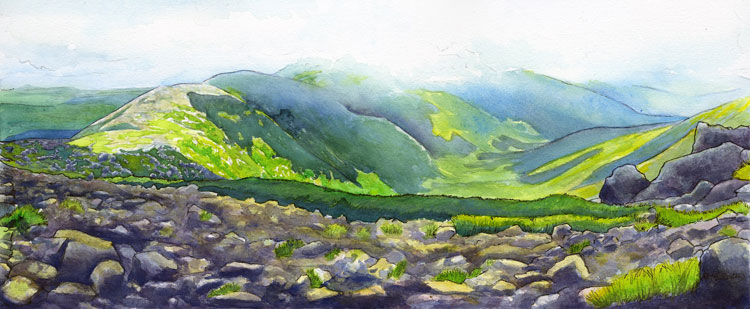 The Great Gulf, watercolor and gouache on paper, 2014.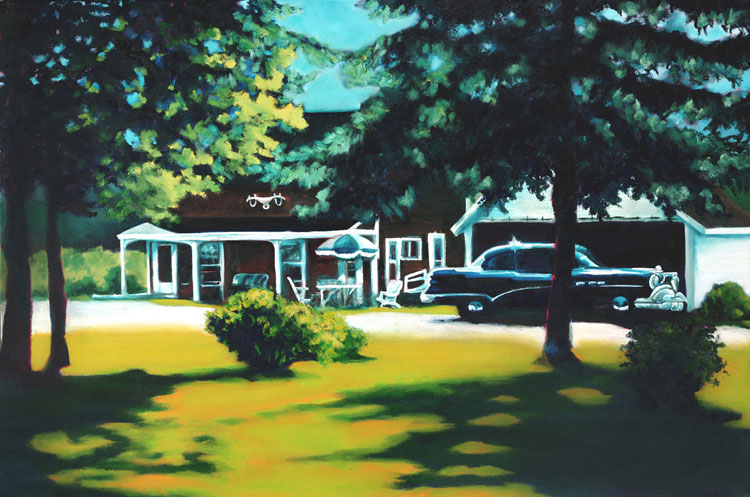 Rural Retro, oil on canvas, 2014.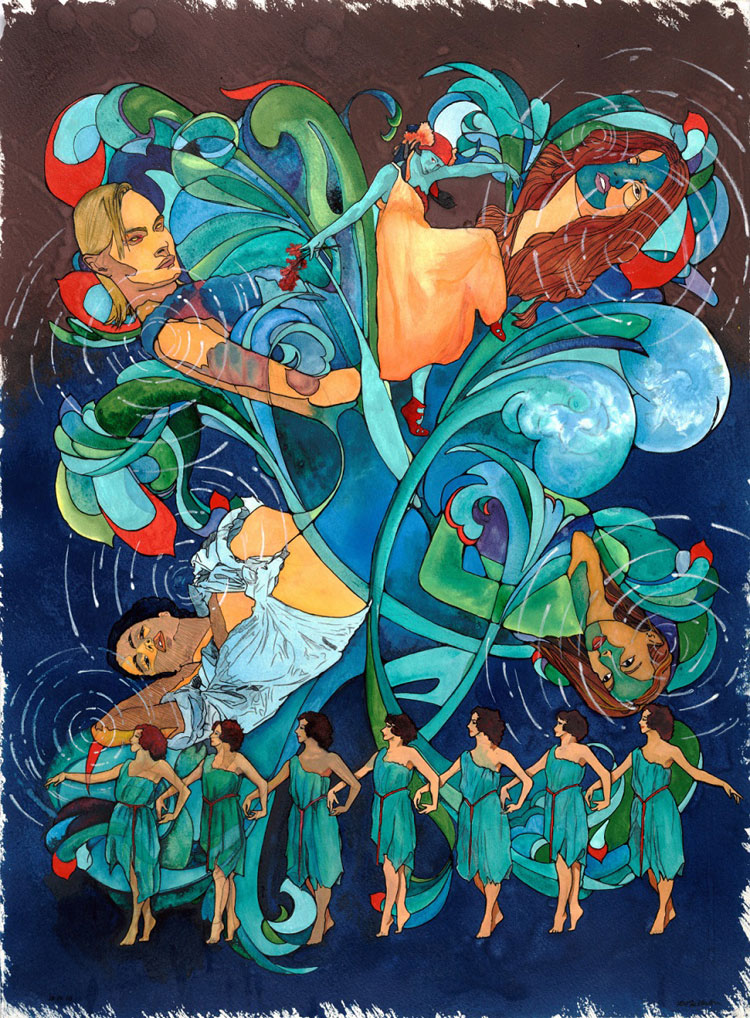 Water Nymphs, watercolor and gouache on paper, 2008.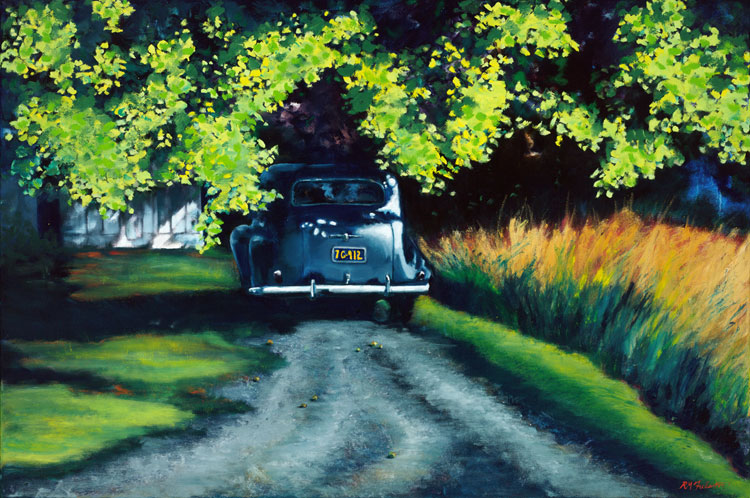 Wedding Car, oil on canvas, 2014.
All Images @ Rebecca M. Fullerton
All Rights Reserved
Artist of The Month Archives: