Allan Gorman
Montclair, NJ
Allan Gorman has been an advertising art director and designer since the early 1970's, working at some of the world's largest agencies on some of the world's largest accounts. He started his own creative services firm in 1987, which has evolved into Brandspa – a pioneering brand marketing firm that helps companies redefine and transform themselves from commonplace into cool. Gorman began painting in the early 1980's, while teaching ad concept classes at The School of Visual Arts in NYC.

Gorman resides and works in Montclair, NJ and can be found most evenings painting in his garage.
How and when did you start creating art?
I've been making art and involved in graphic design and advertising my whole life. When I first began painting an interesting realistic and nostalgic style kind of "popped" out, The early work was informed by old family photos – they looked like hand-tinted black and whites. I did a series of them and had a few shows and sold some, and that led to several commissions… and then finally, to frustration, because I felt that the dictates of "copying" from photos were stifling to my creativity. As a designer and art director, my job was to solve communications problems and I felt that endeavor was far more creative than what I was doing with painting, so I stopped and decided to devote my efforts to building that business. Now, after a hiatus of more than twenty years, I picked up the brushes again in 2007 and a new "voice" has been emerging ever since. I'm excited and having a lot of fun.
What media and genres do you work in?
I work in oil. I like it because it's very forgiving and I feel I have a lot more to learn about the medium before switching to making art with other tools. I'm anxious to build a large enough body of work and following to make my art commercially viable so that I can make it my day job. Once that happens, I'll try my hand with other 2D mediums and works on paper.
Who or what are your influences?
I've always been excited and inspired by modern realists and still marvel at some of the work being done today. As I grow as an artist, I've come more to appreciate great color field and abstractionists too. As a kid, I always loved Hopper, and I guess that shows a bit in my work. Also, I studied black and white photography for a while and much of that work was about contrast and simplified angles and shapes. I guess that was a big influence too, and is starting to show more in my latest paintings.
"A Tight Fit" - I'm having fun using big truck shapes as topic for my paintings and had an idea to try and capture the claustrophobia of being stuck behind these massive objects. I thought it might tell a better story if I had a bicycle messenger trying to sneak by on the right. This painting was done from a sketch, and then I went out and took a bunch of photos as reference for the cars, The cityscape was made up, as were the reflections on the buildings.
Describe your creative process?
I look around a lot. These days I'm using big box trucks as a subject, so I go to places where trucks are – highway rest stops, etc. and shoot reference photos. I make sketches based on my sense memory, and then go and shoot photos for reference. But the paintings now are not copies of photos, they are first from my head.
What are you working on currently?
Growing a larger body of the truck paintings. I also do other graphic items, like gas pumps, buildings, etc., but I think there's a lot more to do with the trucks before I exhaust that idea.
What are your near/long term goals as an artist?
Near term is growing enough work to start approaching the galleries I'd like to show with – I have a short list. Long term is to have a solid and satisfying career as a full-time professional artist.
Where can people view/purchase your work (gallery, website, etc)?
For now, people can contact me through my website. (www.allangorman.com )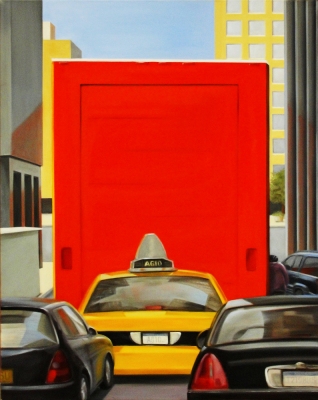 A Tight Fit Oil on Linen 48 in x 36 in 2010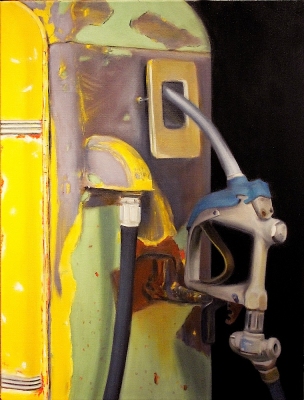 Fill 'er Up Oil on Linen 20 in x 16 in 2010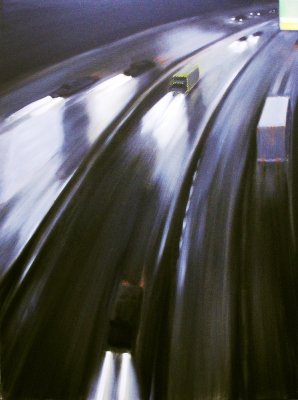 Night Lights Oil on Linen 48 in x 36 in 2010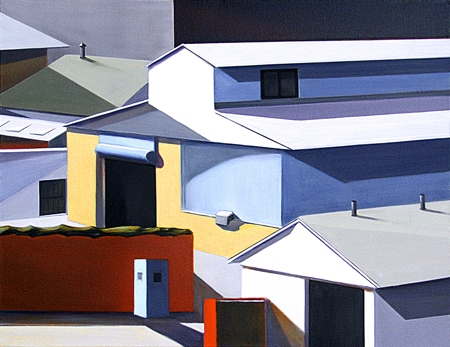 Sunday Morning Oil on Linen 24 in x 30 in 2009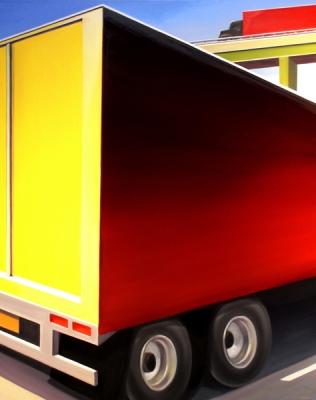 Over and Under Oil on Linen 48 in x 36 in 2009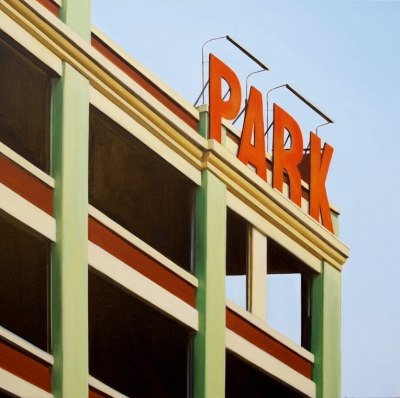 Park on Park Oil on Canvas 30 in x 30 in 2009
All Images @ Allan Gorman
All Rights Reserved
Artist of The Month Archives: