Steven Hughes aka Primary Hughes
Marquette, Michigan, USA
From the Artist's Website:
My name is Steven Hughes. I received my training at Kent State University, earning a BS/MFA degree in Visual Communication Design. As a graduate assistant and later an adjunct faculty member at KSU, I developed an interest in teaching. I also spent two summers at the Illustration Academy studying with prominent contemporary artists and illustrators like Sterling Hundley, C.F. Payne, Mark English, George Pratt, Alexander Klingspor, and Gary Kelley. Currently, I operate a freelance art studio, Primary Hughes Illustration, and serve as Assistant Professor and coordinator of Illustration program at Northern Michigan University. My work has been recognized by the Society of Illustrators, 3x3 Magazine, Creative Quarterly and featured in exhibits around the US.
Primary Hughes is best known for his colorful acrylic portraits, having shown in numerous gallery exhibitions in California and New York. As an artist residing in Michigan's Upper Peninsula, and Professor of Illustration at Northern Michigan University, he can often be found exploring the natural landscape along the coast of Lake Superior with his plein-air kit. His painting and illustration work revels in the interplay of light and color, and the emotional impact in quieter moments of determination, thoughtful reflection, and preparation for a thing that must be done.
Where can people view/purchase your work (gallery, website, etc)?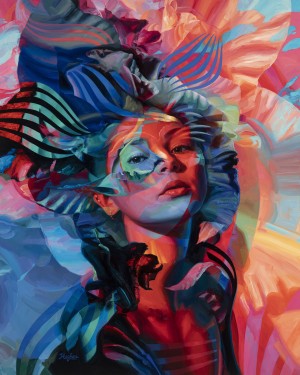 Tourmaline
All Images @ Steven Hughes aka Primary Hughes
All Rights Reserved
Artist of The Month Archives: