Michelle Feinberg
Massachusetts, United States
My heart leads and my hands follow in creating abstract art. In addition to painting, I am the author of the Cooper the Dog children's book series, mother of five, animal welfare advocate, and attorney. Although not inherently brave, I have donated a kidney and walked on fire.
How and when did you start creating art?
Having painted for many years, I began to paint on a daily basis after losing my brother a couple of years ago as a distraction from my grief. As I found myself painting while listening to the music for which he and I shared a passion, the act of creating art transformed into a deeper connection for me with him.
What media and genres do you work in?
I mostly paint with acrylic paints on canvas, and sometimes on wood. I predominately paint in abstract, as abstract art invites the mind to see something different each time you observe it. For me, this brings a never-ending interest in a singular piece.
Who or what are your influences?
I am mostly influenced by nature and by the playfulness of the art by Joan Miro, Alexander Calder, and Picasso. My paintings are mostly focused on abstractions of animals.
What was your inspiration for
Birds and Fish
?
I've always had a great love of nature, and the desire to have animals in their natural habitats. Birds and fish live their best lives when free, and although they are not two species that live together in harmony, I imagine them frolicking together in a sort of a happy chaos.
Describe your creative process?
It is not my current mood that chooses my colors, but rather my anticipated mood resulting from the process of creating while listening, dancing, and singing to classic rock. As such, the colors tend to be vibrant and happy. Before applying the paint, I usually begin with acrylic paint markers, to lay down the basic design, curves, and shapes, which often include animals.
What are you working on currently?
I am continuing my work with vivid and cheerful colors with the focus on the center of the canvas, and negative space on the edges. This latest style is that with which I connect the most, and the direction in which I see my art progressing.
What are your near/long term goals as an artist?
Continuing in this new direction, I would like to build my inventory and eventually would love to be represented by a reputable art advisor/dealer/gallery.
Where can people view/purchase your work (gallery, website, etc)?
My artwork can be purchased on my website, http://www.micheidistudio.com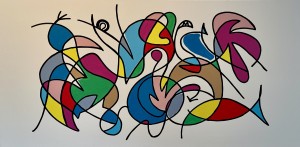 Birds and Fish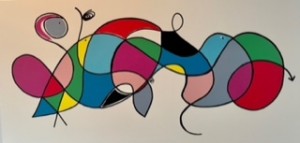 Birds and Fish 2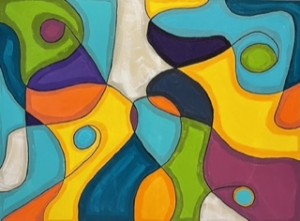 Consensus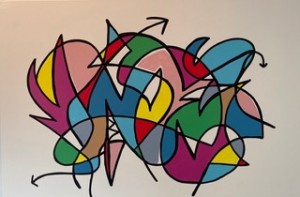 Nonsense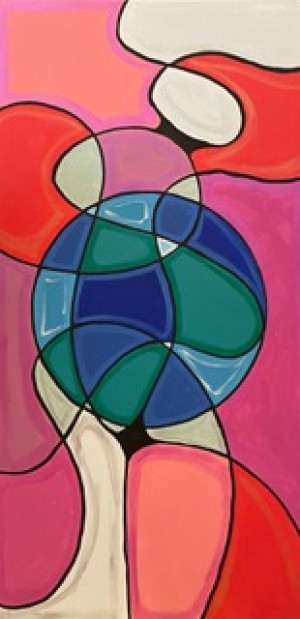 Mother Nature Has Had Enough

Symbiosis
All Images @ Michelle Feinberg
All Rights Reserved
Artist of The Month Archives: