Mauri Aybar & Andrea Castiglione
Gold Coast, Queensland, Australia
Husband and wife mosaic craftsmen, we are Mauri Aybar and Andrea Castiglione, immigrants who landed in Australia in 2014, together we are creating a mesmerizing mosaic collection, shaping famous artwork, into ceramic mosaics.
We design spaces and artwork to awake a mix of feelings in people's life every day. Is our passion to share with locals our background (and our vision of the future) using mosaics.
We bring to the building and decoration industry a mix between ancient artistic techniques with modern materials and tools. The result is something new we can call unique.
We are very excited to show people our work, we hope our collection can be part of their homes and their hearts.
How and when did you start creating art?
Mauri studied Art Bachelor degree and I (Andrea) studied Business Bachelor degree, MBA, Design. The first time we visited Barcelona – Spain, we felt in love with the city, so we decided live there. Mauri start making mosaic since he was in the university (he finished uni in 1994), In Spain we start making mosaic, commissions, then our job cross the border to make restorations in Italy, Germany and Turkish.
In July 2014 we landed in Australia continuing working in our passion.
What media and genres do you work in?
Mauri falls in love on the ancient roman technique of making mosaics 25 years ago, he studied it and its history traveling and working in Europe, especially in Barcelona, the idea of doing something so creative and vibrating, with so solid and durable materials was captivating for him, the possibilities were infinite and he wanted to be a least a little part of that legacy.
That is when I (Andrea) fell in love with him, and join to help him build a modest business around his talent, my artistic call is this enterprise, I am very passionate about what I do, because it helps my husband to do what he loves most.
Who or what are your influences?
We are influenced for ancient roman technique and all artworks are made to pay tribute to the biggest artist such a Pablo Picasso, Joan Miro, Antonio Gaudi, aamong others.
What was your inspiration for
Guernica
?
Created as an anti-war protest piece in response to the 1937 aerial bombing of a small town in northern Spain, Guernica quickly became one of Pablo Picasso's most-recognized Cubist paintings—and for very good reason. Its monochromatic colour palette, intense contrast, and large, violent images are visceral, compelling, and unforgettable even today. . .
We can't think of anything else we haven't already said… We will be showing our interpretation of "Guernica of Pablo Picasso" made of stained glass in petrol, blue, grey, White and black colours, size 2400x1200x16 mm
Describe your creative process?
Creating artwork from stained glass sounds easy, we draw the patterns first, piece by piece, then we cut the pieces, we ensemble them with glue, then grout and engraved them on the back, and that's is it!
You probably picture yourself in kinder garden cutting colourful paper and gluing them together, if you also remembered having trouble doing that, imagine doing the same thing but with ceramics instead of paper, a powerful vibrating waterjet, instead of a stable rounded seizor, and a smelly and pretty sticky glue, instead of children's glue.
The entire process can take about two weeks or more, depending on the size of the artwork!!
What are you working on currently?
Recently we were invited to participate in The Other Art Fair in Sydney, 4 days sharing our artwork and meeting interesting people!
We are full time artists; we dedicate 100% of our time to designing and creating artistic mosaic artwork to decorate spaces…
We are preparing a Solo exhibition in Mount Nathan Winery on the Gold Coast - Australia.
We are working in a new collection called "In front the Lights".
Most of the time we work on commissions.
What are your near/long term goals as an artist?
Our Goal is introduce the mosaic art and they meaning to the society, creating art for public spaces to everyone can enjoy.
Where can people view/purchase your work (gallery, website, etc)?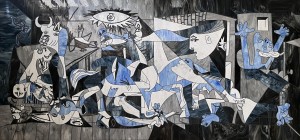 "Guernica" - Stained Glass Mosaic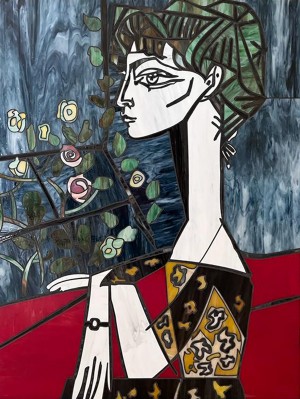 Jacqueline with Flowers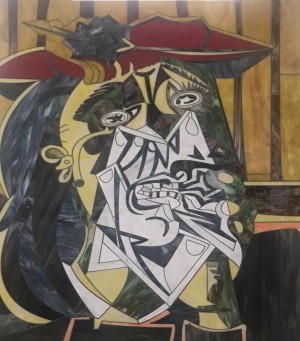 Weeping Woman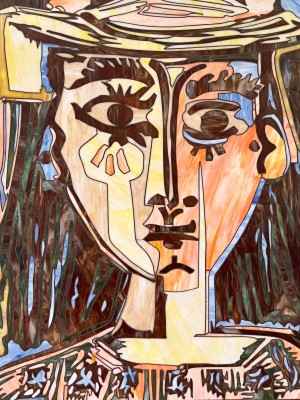 Woman in a Hat with Pompoms and a Printed Blouse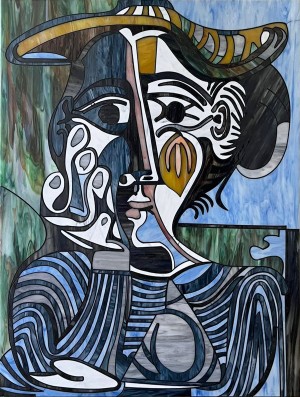 Woman with Yellow Hat (Jacqueline)
All Images @ Mauri Aybar & Andrea Castiglione
All Rights Reserved
Artist of The Month Archives: