John Kotos
Ponte Vedra Beach, Florida, USA
John is an emerging abstract artist based in Ponte Vedra Beach, Florida, where he lives with his wife and daughter. He has been painting since 2013 and recently began actively pursuing a career in art. He was nominated as a top Abstract Artist of 2020 and 2021 by the American Art Awards. Recently, his work was used for a concert poster for the band 'The Strokes'. Through his paintings, he strives to merge abstraction with the tangible and vibrant life found in the natural world.
How and when did you start creating art?
I started creating graffiti and stencil art as a hobby in 2013. After a few years working in this medium, I transitioned to creating acrylic abstract paintings. I was instantly drawn to the level of complexity I could add to each painting and the freedom of expression that comes with abstract work.
What media and genres do you work in?
I use acrylic paint on canvas. While my work is primarily abstract, it is directly inspired by the natural world.
Who or what are your influences?
I am influenced by Abstract Expressionists from the mid-twentieth century including Barnett Newman, Hans Hofmann, Jackson Pollock, Joan Mitchell, Mark Rothko, Wassily Kandinsky, and Willem de Kooning. I am particularly drawn to these painters' ideas of art as a unique form of communication and language even at its most abstract point. I strive to reach the same level of wholeness that I experience when I see the work of these artists.
What was your inspiration for
Ánthos
?
This piece was inspired by the hibiscus growing right in my backyard. The painting was created with the intention of looking like a vase of hibiscus. I wanted to showcase the depth of color that I see in these beautiful flowers.
Describe your creative process?
I use acrylic paint, pre-stretched canvas, and new brushes as well as brushes with hardened paint on them. After painting the background, I pour, splatter, and drip the paint on the canvas to create a palette then I use the hardened brushes to pick up paint and distribute it throughout the canvas. Periodically I will lift, shake, turn, or tilt the canvas to help blend the colors and create the illusion of movement within my work.
I want my work to look accidental or unplanned at first glance then allow the viewer to slowly recognize that every inch of the canvas is layered with a multitude of choices whether it be color combinations or brush movements. The greatest compliment I receive about my work is that my buyer or viewer is always finding something new in it.
What are you working on currently?
I am currently working on a 60" by 48" inspired by the marsh landscape near my home.
What are your near/long term goals as an artist?
My short-term goal is to create larger works as I continue to experiment with new techniques. My long-term goal is to have the opportunity to work on my painting full-time, for my paintings to be featured in gallery exhibitions and to license my work more frequently to expand my audience and brighten more homes.
Where can people view/purchase your work (gallery, website, etc)?
You can find my available and past work on my website (https://jtkpaints.com/) and see my latest paintings on Instagram (@jtkpaints).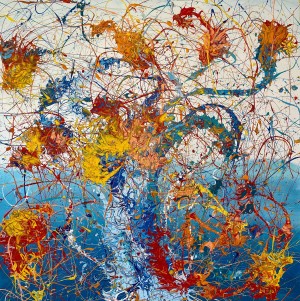 Ánthos - Acrylic on Canvas - 48" by 48"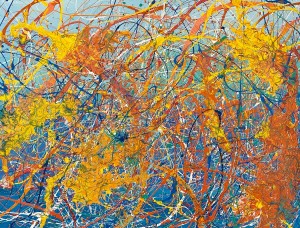 Koi - Acrylic on Canvas - 36" by 48"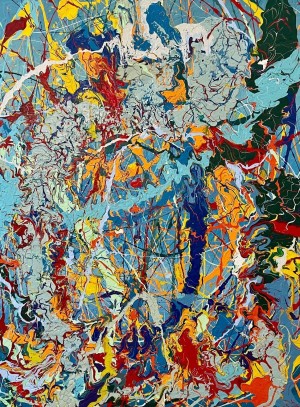 Bouquet - Acrylic on Canvas - 40" by 30"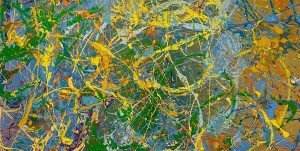 Subtle - Acrylic on Canvas - 24" by 48"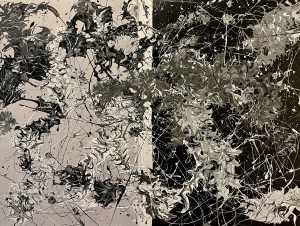 Equation I - Acrylic on canvas - 30" by 40"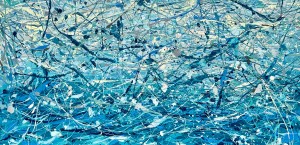 Blue Horizon - Acrylic on Canvas - 24" by 48"
All Images @ John Kotos
All Rights Reserved
Artist of The Month Archives: