Gloria Chan
Atlanta, Georgia, USA
Hello, I'm Gloria Chan. I am a Chinese American artist in Atlanta, GA. Art is always part of my life. It is never limited to a single form, and everyone has their own perspective and taste in art. I want to share my perspectives of art with everyone through my works.
I am a well-trained artist who specialized in drawing, watercolors, and oil paints. I believe that artworks do please the viewer's eyes. At the same time, I also believe that they are tools for artists to communicate to the viewers. In order to present the subject clearly, my works are full of great details realistically. This website contained artworks that were created with multiple mediums, including ink, watercolor, and oil paint. Each medium results differently, yet they contain its own unique characteristics as well as the subjects of the painting and drawing.
​
I also believe that art should keep pace with the status of the society, where it should continue innovating, and it is not limited to old form. More recently, I developed a new possibility on traditional art, where combining the Ultraviolet effect with traditional mediums. I called it the "Double Lighting Effect". Within one painting, there are two different images. One can be easily seen with regular lighting, and the other requires ultraviolet lighting in order to be viewed. This innovation of combining traditional art and modern material is abreast of the modern era.
​
Cultural diversity is another focus subject matter of my works, and it is an influence on my artworks and my life. I grew up in Hong Kong, China, where is a city full of a mixture of Eastern and Western cultures. Later, I moved back to Atlanta, Georgia when I was thirteen. As an Asian American, I realized that Eastern cultures have not often to be exposed to western eyes at that time. I believe that art can be formed as an educational or communication instrument to understand cultural differences from a different perspective.
Where can people view/purchase your work (gallery, website, etc)?
https://gloriawchan.wixsite.com/arts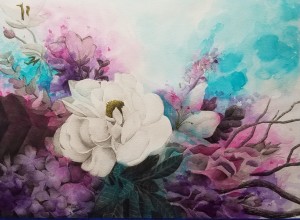 Invisible Attraction
All Images @ Gloria Chan
All Rights Reserved
Artist of The Month Archives: