Rakhee Roy
Kolkata, West Bengal, India
Through nature, the divine speaks to us if only we care to listen. My artistic philosophy has been centered around environment. After watching Al Gore's "The Inconvenient Truth" the issues of global warming have moved me. I paint in this line and also the spiritual aspect of life as a woman.
I have had 10 solo and many group shows in India and abroad; London, Dubai, Taiwan, etc. The latest was held in Art Revolution Taipei in March of 2021.
I also attended workshops and did charitable works for environmental and animal causes.
How and when did you start creating art?
I have been painting for the last 22 years. Nature has always inspired me.
Modern industrial societies and our so-called development are having a catastrophic effect on the planet.
As I walk through the concrete jungle, the green withers away as we are too busy to notice it. This makes us accountable. I paint to show my deep concerns for nature and all the living creatures in it. I paint to magnify the beauty of our planet, to leave a legacy for my children, a safe planet, a nurturing ecosystem, and us as stewards of sustainability and realizations,
What media and genres do you work in?
I work mostly in acrylic and water colours. Fantasy.
Who or what are your influences?
Life and nature influence me in a huge way. I mostly paint women who are the symbol of innocence, fertility, spirituality. and possibility.
What was your inspiration for
Durga Shakti
?
Durga Shakti is the name of the painting who is the symbol of power. She is like Durga, juggling all at the same time. She is epitome of beauty and grace, she can be as simple as nature guarding the world, and can rejuvenate any time after facing all odds. She carries culture and spirituality. Through this work, I tried to celebrate nature embodying the power of woman.
Describe your creative process?
My creative process is simple nature and all the living beings in it. My observation and feelings are portrayed through a body of a woman.
What are you working on currently?
The pandemic has taught us a great deal and now we see life from a different perspective. I am painting as I see the current scenario as to how we are confined due to lockdown, and nature is finally breathing and is saved from our greed of exploitation. My paintings are on this issue.
What are your near/long term goals as an artist?
My goal is to paint as long as I live and make people aware of the beauty of nature and our duty to preserve and respect it. To leave behind a safe and beautiful world for the generations to come. My works will always center around this.
Where can people view/purchase your work (gallery, website, etc)?
Through my website: https://rakheeroy.com/
You can also follow me on Instagram: https://www.instagram.com/roy_rakhee/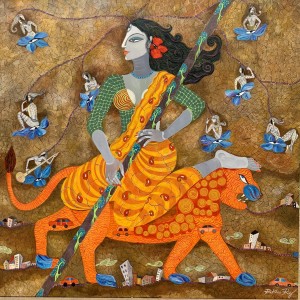 Durga Shakti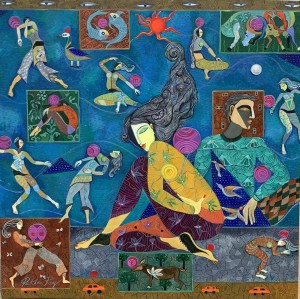 Balance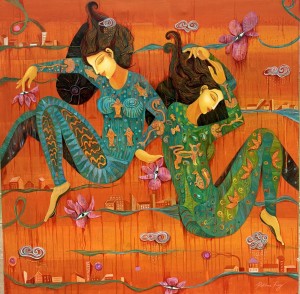 Dream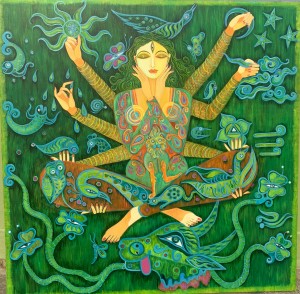 Durga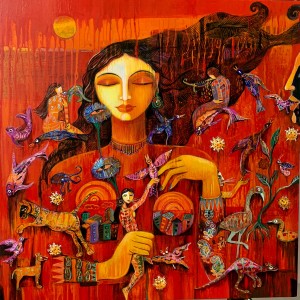 End of Eating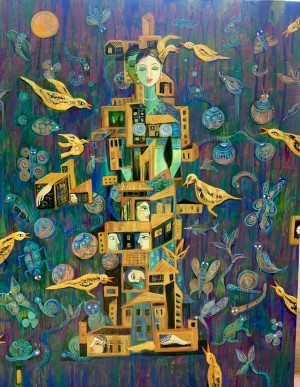 Lockdown
All Images @ Rakhee Roy
All Rights Reserved
Artist of The Month Archives: