Geoff Musseau
Newfoundland, Canada
Geoff was born in Channel-Port-aux-Basques, Newfoundland. For Geoff, a self-taught artist, mastery over Acrylic paint was acquired through long hours of dedicated labour, a fearless drive to create, and an unwavering commitment to growth and the achievement of excellence. Geoff's paintings stand in a class of their own in terms of their astonishing attention to detail. His compositions are also instantly recognizable by their Rich and Bold colour palette and their striking - almost sparkling clarity and precision. These elements combine to produce a level of Realism that resonates strongly in all who view them, evoking dreams, memories and emotions. Living on the southwest coast of Newfoundland - a region that abounds with rural beauty - Geoff is never at loss for natural inspiration. The area's shoreline, woodlands, farmer's fields and meadows fuel his imagination and provide Geoff with an artistic vision that reveals Newfoundland as it has never been captured on canvas before.
How and when did you start creating art?
I was alway interested in doing Art but took it serious when I was in high school.
What media and genres do you work in?
I tried different media but Acrylic turned out to be my favourite. I love doing seascape, landscape, nature, and still life paintings.
What was your inspiration for
Stage Window
?
I was so inspired in doing this piece as soon as I saw the foreground background. Myself and my granddaughter Emerson were walking this beach when we noticed an eagle in the background, so we decide to sit and watch it for awhile. I always bring my camera along because you don't know where your next painting might be and this was my lucky day. I fired off a few shots and could not wait to get home to see what I captured and I knew right away that this was going to be my next piece "Nest Repairs "
Describe your creative process?
I mostly paint from photos that I take along with a few thumbnail sketches. When I am happy with my design, I get my board ready. I always paint on masionate. I give it 5 / 7 coats of gesso and sand inbetween coats. I alway add a little colour to the gesso so I don't get that strong white coat. I then start sketching right onto the board with pencil and go over it with a wash of burnt umber so it doesn't get the dirty graphic look. I proceed with many layers, working from the background to the foreground, and I won't sign my name until I am happy.
What are you working on currently?
I am currently working on a piece that is 24" x 36". It's a landscape painting of an old gas pump.
What are your near/long term goals as an artist?
My near and long-term goals are to finish my new studio and galley that's attached to our home and then I want to become a full-time artist.
Where can people view/purchase your work (gallery, website, etc)?
At this moment I am not represented by a gallery but would love to some day you can view and purchase my work from my website http://www.artofjeffmusseau.com/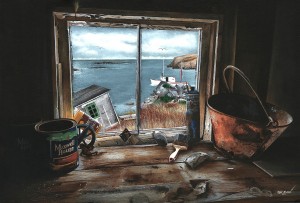 Stage Window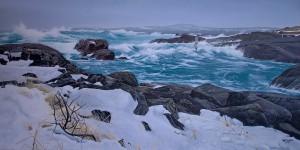 Into the Wind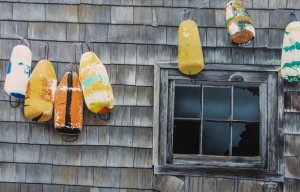 Yes Buoy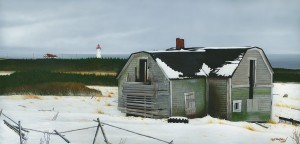 The Old Homestead

Surveying the Spoils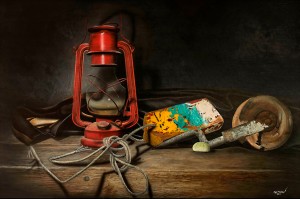 Reduntance
All Images @ Geoff Musseau
All Rights Reserved
Artist of The Month Archives: