Debra Bretton Robinson
Massachusetts, United States
Born in 1967, Debra is an artist residing in Tyngsborough, Massachusetts, with her husband and three daughters. She is also a participant in the vibrant Lowell, Massachusetts, art scene. She grew up in Plaistow, New Hampshire, and has been inspired by the simple New England landscapes surrounding her throughout her life. She received her Bachelor of Fine Arts degree from the Massachusetts College of Art and Design in Boston where she met her husband. Her acrylic paintings on canvas concentrate on places she encounters every day in her life or places she frequents, becoming almost autobiographical. Her style borders between representational and abstract enlisting New England architecture as a base while using bold, contrasting colors for a contemporary edge. The colors and lines of her paintings are inspired by Matisse during the Fauvist movement and The Seven, a group of painters working in Canada at the turn of the 20th Century. The talents of several other artists she continues to draw upon are: William Henry Johnson, Tommy Thompson, Lawren Harris, Emily Carr, and Alice Neel. Debra works out of her studio at 122 Western Avenue in Lowell, MA, su. #A415.
How and when did you start creating art?
I have been creating art as far back as I can remember. I have a vivid memory of having my first chance in preschool to paint on an easel. It was life changing!
What media and genres do you work in?
I work mostly in acrylics on canvas, occasionally or additionally in collage/mixed media. I can't say I work in a specific genre. If I had to put a moniker on it I would call it neo fauve or maybe graphic idealism.
Who or what are your influences?
I have many influences. Hopper, Alice Neel, Louis Nevelson, The Group of Seven, Matisse, Van Gogh, William Henry Johnson, Horace Pippin, Alma Woodsey Thomas to name a few. My contemporary artist friends have also shaped me: Noredin Morgan, Ilene Richards, Susan Jaworski Stranc and many others.
What was your inspiration for
Manhattan Lights
?
My inspiration for the winning image was a fascination with architecture. I travel to NYC occasionally and there is always an exciting view out of most windows. If NY didn't have so many things to offer like restaurants, galleries, museums, parks, etc I'd be painting the whole time I was there right from the hotel room! The way the lights hit St Paul Cathedral that night was cinematic. Again, I was compelled to record the scene. The craftsmanship that went into creating these architectural works of art astounds me. Beauty surrounds us. We just have to pay attention wherever we go.
Describe your creative process?
My creative process begins with a scene that I see in the course of my regular day or on vacation that I just can't ignore. I am literally compelled to begin working on it. I used to sketch it all out carefully using colored pencils and then from that sketch I would copy it onto a canvas and start painting. But after three babies, I had to streamline that process. Now I just whip out a canvas and draw in paint using my brush. I like using bright colors and color opposites. After I make the sketch, the scene speaks to me and I begin with one color and then it is offset by my next choice. Choices follow from there, keeping contrast and a cool/warm balance in mind.
What are you working on currently?
Currently I am working on a series of "Plaistow Paintings" of my hometown, which was a special request from the town. It's interesting to revisit scenes I grew up with and put a new spin on them, see them with an artistic eye. I will be having an exhibit for them in February of 2022.
Where can people view/purchase your work (gallery, website, etc)?
People can see more of my work at my studio #A415 at Western Avenue Studios in Lowell, MA, during open studios, the first Saturday of each month from 12-5pm or at one of my websites:
https://fineartamerica.com/profiles/debra-brettonrobinson
https://www.saatchiart.com/brettonarts
https://debra-brettonrobinson.pixels.com/
http://www.redbubble.com/people/brettonarts
https://debrabrettonrobinson.wordpress.com/


I am also on Facebook and Instagram (Brettonarts on both)
Manhattan Lights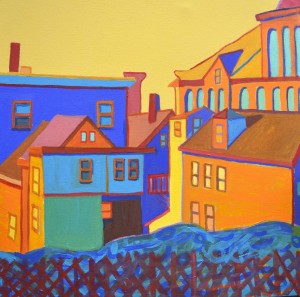 The Amber Acre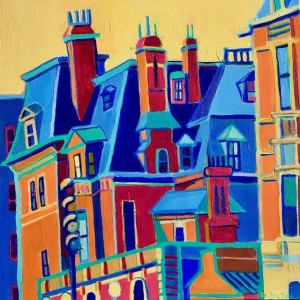 Hollis Hunnewell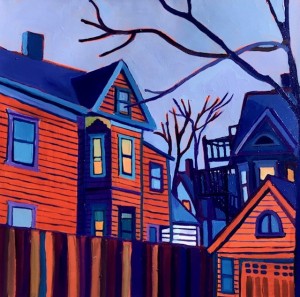 In the Driveway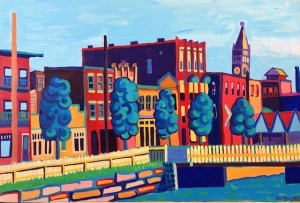 Dutton Street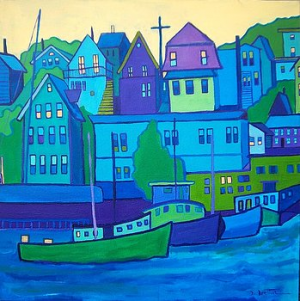 Gloucester Harbor
All Images @ Debra Bretton Robinson
All Rights Reserved
Artist of The Month Archives: