Carolyn Beehler
Franklin, Tennessee, USA
Carolyn Beehler is a paper artist. She creates impressionistic works of art that trick the eye. Although her works look like oil paintings from afar, they reveal themselves to be delicate, hand cut works made entirely from magazines. She layers thousands of pieces of paper onto canvas, some as large as doughnut holes and some as small as seeds, into luscious microcosms packed with textures, words and symbols. This playful medium embeds new magic into already wonderful memories of eating gelato, watching kids playing in the street, or admiring geese admiring their reflections in a pond. Paper painting tends to slip into magical realism, revealed only under close scrutiny.
How and when did you start creating art?
My first earnest memories of art- not the scribbling stuff in preschool- began with summers in elementary school. After starting the day off right with pop tarts and I Love Lucy I might settle down at the kitchen counter with colored pencils. I had a journal I filled with copies of Disney video covers or illustrations from library books. Then there was my first collage, a trash can for dad's birthday I made when I was 12. I got an empty ice cream carton from Baskin Robbins and covered it with all the dad things I could find in Better Homes and Gardens and Southern Living (peppermint patties, outer space, sea shells, cheeseburgers, Captain Crunch, a palm tree…). He still has it! But my favorite memory has got to be another one of those warm, sunny days when I was five or six. There was a fair at a park full of crafts and activities. All I remember was a radiantly psychedelic junker sedan kids were taking turns painting. It blew my mind that a shortie like me had permission to permanently decorate something as big and important as a car.
What media and genres do you work in?
I'm a purist these days. I only work with paper found in magazines, brochures or occasionally books. I'm strict. I won't introduce paint because I want to see how far I can go with that medium. It's like rot or tax evasion- small at the start but watch and wait, it will grow.
Who or what are your influences?
On the macro level I'm hugely inspired and pushed forward by the Renaissance and classical sculpture (ie, Winged Victory). To zero in on individuals, I'd say Michelangelo, Albrecht Durer, John Singer Sargent, Edgar Degas, Antoni Gaudi, Coco Chanel, Wayne Thiebaud, Barry Moser, Mark Wagner and Wendy Artin.
What was your inspiration for
Main Street (Franklin, Tennessee)
?
Franklin is regularly ranked one of the best small towns in America. I took it for granted for most of my life. I think it's good to move away as I did, because now I'm fonder of it. After paper painting series on Italy and China I decided the inspiration and challenge for a third collection needed to be seeing the familiar with fresh eyes. This piece is Franklin at it's most iconic, with the masked tourists being a twist none of us saw coming.
Describe your creative process?
It all starts in Photoshop. Once I edit my photo nicely and match its dimensions with my canvas, I'll draw my grid on my wood canvas. Getting the measurements right is everything. Next I drawbasic shapes and outlines of my picture, say the buildings, trees and figures of people you see in "Main Street." The boring and tedious part is finished and now begins the fun- combing though magazines and cutting out cool colors, textures and text. These I cut into small pieces and glue onto canvas, similar to paint except with paper. The idea is to transfer the principles of painting to paper. I spend many hours layering and experimenting with different textures and colors to emphasize the focal point and also to balance the composition. For instance, if I want your eye to travel across the sidewalk up to a person walking I could lay down strips of gray sequins and gray text to give the concrete a shimmering flow I couldn't achieve with stagnant pieces of solid gray paper.
But Lord help me find a good system! I save my plastic salad containers to hold ROY G BIV color swatches and organize my bookshelf with different categories of magazines, but even then my space is always a catastrophe. In fact I treat my desk like a compost pile because every week or two it gets too high with scraps and I have to turn and shuffle the mix to rediscover what I lost underneath.
What are you working on currently?
I'm hustling to complete my third collection, based on my hometown in Franklin, Tennessee. It began plainly enough but since 2020 has subtly morphed into a look at how people behave in a pandemic. I hope to finish it at the end of the summer.
What are your near/long term goals as an artist?
To make moneeeeey! Also to illustrate books. Once I finish my Franklin series I want tackle a fairy tale one of my best friends is writing. Eventually I want to expand my business to include a robust line of home goods with my illustrations.
Where can people view/purchase your work (gallery, website, etc)?
Please check out https://www.carolynbeehler.com/. You can also email me to get on the newsletter at cmbee23@protonmail.com. I'm upgrading my site this year so be sure to check back again around October.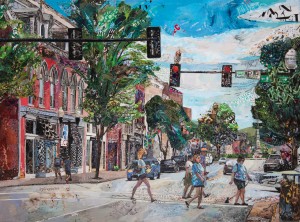 Main Street (Franklin, Tennessee)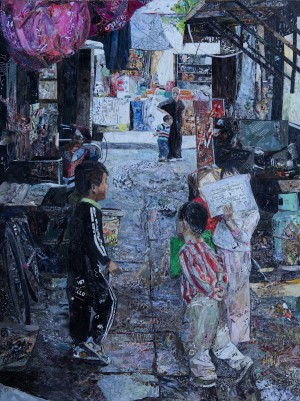 Street Kids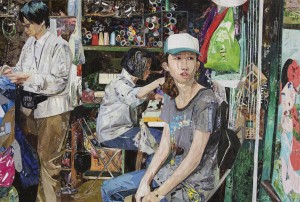 Hong Kong Family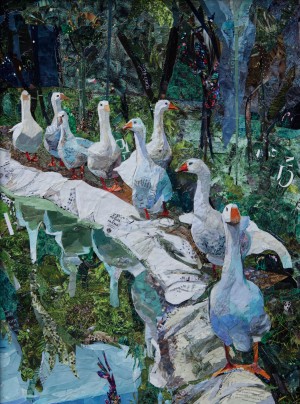 Mauros Geese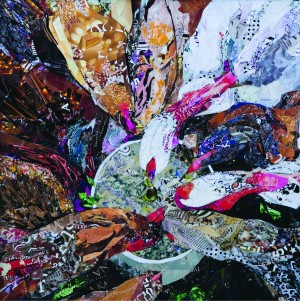 Chickens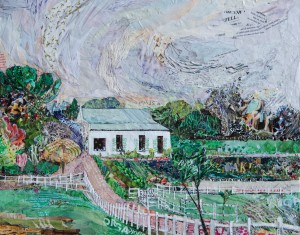 Langkloof Roses
All Images @ Carolyn Beehler
All Rights Reserved
Artist of The Month Archives: