Anne Goffin Smith
New Jersey, USA
I was born in Belgium, and moved to Virginia with my family when I was young. I attended Georgetown University, where I met my husband, Leon, and I later earned a master's degree at Pratt Institute in Brooklyn, NY.
How and when did you start creating art?
I've been creating art as long as I can remember! My mother and sisters and I used to make collages and glue them on lampshades!
What media and genres do you work in?
I've always been drawn to landscapes. I paint mostly in oils, but lately have been playing with pouring acrylics and resin and also collaging.
Who or what are your influences?
My paternal grandmother was very creative. She painted beautifully, but she also did many things with a little extra touch, such as cooking, sewing or just setting a table. My mother also would have been an amazing artist, but she spent her time raising her children instead and creating a lovely home.
What was your inspiration for
Hold My Hand (Lulu and Maurice)
?
During the covid pandemic, I retreated to my studio and started painting A LOT! I started doing paintings of my nieces' children and then my daughters' dogs! And I couldn't stop! I just kept on going! I honestly have not painted people in years! It was mostly landscapes, but if this past year has taught us anything, it's to mix things up!
Describe your creative process?
I work from my own sources, and take my time to compose the painting in a way that is pleasing to me. I worked as an art director many years ago, and that experience shaped my thinking. We had to draft everything by hand. We would send out type and have to wait for it to come back!
What are you working on currently?
Before the pandemic, I was fortunate to visit Giverny, in France. I took loads of photos of Monet's Garden and am working on a series!
What are your near/long term goals as an artist?
To keep painting and creating. What is nice about being 60, is that I am just exploring the whole process and will follow where it leads me! It's wonderful to have more freedom of time! I was asked to host a couple of local sip and paints, which were fun, and have been asked by friends to hold a class. I'd love to do that soon.
Where can people view/purchase your work (gallery, website, etc)?
I'm preparing for my first SOLO show at Caldwell University in the New Mueller Gallery. The show will run from October 14th (opening reception is from 6-8pm!) through November 28, 2021.

Website: https://www.annegoffinsmith.com/
Instagram: https://www.instagram.com/annegoffinsmith/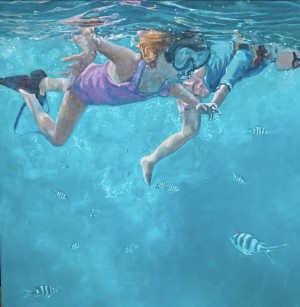 Hold My Hand (Lulu and Maurice) - Oil on Canvas 20"x24"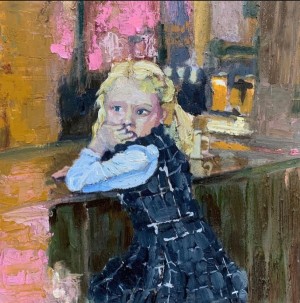 Helen - Oil on Board 6"x6"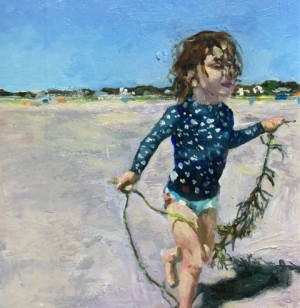 Run Free - Oil on Board 6"x6"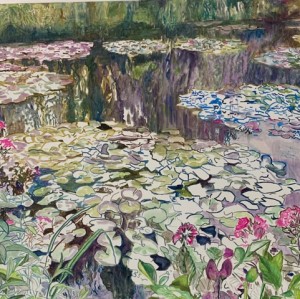 Afternoon Reflections - Oil on Canvas - 48"x48"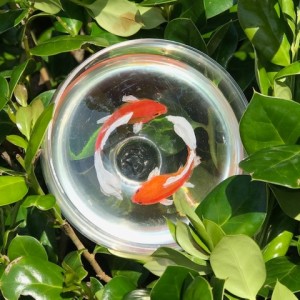 In Love - Resin, Acrylic, Martini Glass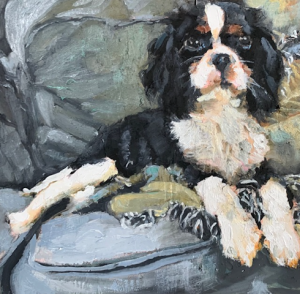 Rex - Oil on Board 6"x6"
All Images @ Anne Goffin Smith
All Rights Reserved
Artist of The Month Archives: