Alan Soffer
Philadelphia, Pennsylvania, USA
Alan began making sculptural forms in 1973, culminating in a show at the Jewish Museum in Philadelphia in 1985. Purely by accident he discovered abstract painting that very same year through a workshop at Bennington College, and never looked back. He has continuously focused his attention on conceptual areas, such as, "the life cycle", "deconstructions", "ancient healing", and mostly "abstract expressionism." Finding order out of chaos is his singular purpose. Whatever the direction, the work is always influenced by Joseph Campbell, the noted mythologist, who Soffer considers his mentor since the Campbell interviews in 1988 by Bill Moyers.
An amazing encaustic painting by David Siqueiros, exhibited at MOMA in NYC, lead to incorporating this modality following studies at Ringling School of Design in 1998. Encaustics allowed Soffer to marry a sculptural component to his painterly approach. The hot, pigmented wax's inherent translucency perfectly supports his vocabulary for expressing space from the microscopic to the galactic, and continues as his main direction to this day.


Around 2000 opportunities emerged for teaching encaustics, which was just beginning to gain popularity. In 2005 Soffer organized the first national conference on encaustics in the US and curated an exhibition surveying artists from across the country, which travelled to five venues from Maine to California. Further workshops developed primarily in the area of abstract painting, which he thought was being neglected. These workshops, which he conducts with his artist wife, Libbie Soffer, now are given internationally, as well as, at his studio outside Philadelphia.
How and when did you start creating art?
I began making art in 1973 in a Clay class with my oldest son. I was blessed with a most wonderful teacher who inspired me to fall in love with sculpting. My son lost interest, by the way. In 1985, I stumbled into abstract painting at Bennington College when my clay program was cancelled at Parsons.
What media and genres do you work in?
Encaustic is my primary medium these days and has been for nearly 20 years. I organized the first National conference on the subject in 2005. My early paintings were usually figurative and representational. Gradually I morphed into abstraction, which was so exhilarating and freeing. I still do acrylics and oils quite a bit. In addition, I have been spending a lot of time doing drawings with charcoal, inks, pencils, etc. I somehow feel comfortable in a variety of genres & media.
Who or what are your influences?
WHO….ARTISTS: Rauchenburg, Motherwell, Klimt, Klee, Chillida, Frankenthauler, Tapies, kiefer, Defeo, Volkos, kuneko, Seargent, Whistler, Turner, Kelly
WHAT……EVENTS, PLACES, PEOPLE, THE UNIVERSE, THE SEA, MOUNTAINS, CITIES, PHILOSOPHY, SHADOWS, WALLS, SKY, ARCHITECTURE, actually anything could catch my fancy.
Describe your creative process?
I am the quintessential abstract expressionist. It happened because that is truly who I am even though I didn't begin that way. I begin work in different ways. Sometimes I simply concentrate on what colors are in my head. Other times I may do a quick abstract series of marks and shapes. On occasion I will begin the process with some collage fragments from my personal photographs. The end product usually obliterates the photos. Then there is the approach beginning with an organizational CONCEPT.
What are you working on currently?
The title of this series is WWW (Wax Weds Wood.) Encaustics (hot wax paint with pigments) are done on a firm wood surface generally. I began feeling that the grain and marks within the wood was being obliterated. So this concept was to feature the beauty of the wood as an integral element in the surface of the paintings.
What are your near/long term goals as an artist?
Near term, I am letting the color come to the fore. I had retreated to B & W for a while. Also, putting my work out to the public. I want the work to be enjoyed by many and all. I have had some degree of success with galleries, museums, and college exhibitions; so now I am also interested in placing the work in private homes, institutions, and businesses. That is a giant challenge as all artists are aware.
Where can people view/purchase your work (gallery, website, etc)?
At present I am encouraging people to visit my website, https://www.alansofferart.com/ and hopefully find something that they love.
Also, I have been inviting local people to visit the studio. I enjoy this direct contact.
If I get a feel for what people are looking for I can send them many options that don't appear
on the website.
In addition, I am represented by:
Ric Michel Fine Art, NYC
Dabbert Gallery, Sarasota, FL
Blue Streak Gallery, Wilmington, DE
Miller White, South Dennis, MA
Etra Gallery, Miami, Fl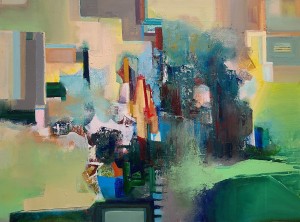 Urban Urges
All Images @ Alan Soffer
All Rights Reserved
Artist of The Month Archives: