TheArtList.com is the leading online resource for visual artists and photographers looking for income and exhibition opportunities. Our online art and photo call submissions database is updated daily with high quality art and photography calls. We also offer a digest of featured art and photography calls.
FEATURED ART & PHOTO CALLS
Monterey Peninsula College Art Gallery - Call for...

Deadline : Oct 31, 2021


SlowArt Productions and the Limner Gallery present...

Deadline : Oct 31, 2021

-

$500 in Awards


Exceptional Abstractions: Call for Abstract Art

Deadline : Nov 07, 2021

-

First place $250 - Second Place $150 - Third place $100 in Awards


Debut - Southern Tier Center for Emerging Artists

Deadline : Nov 30, 2021

-

Best in Show ($125), 1st Place ($100), 2nd Place ($75), 3rd Place ($50), and People's Choice ($100) in Awards


$7,000 in Cash Prizes & More in the Boynes Emergin...

Deadline : Nov 22, 2021

-

$4000, $2000, $1000 || $250 Blick Art Materials || Published Article || Marketing in Awards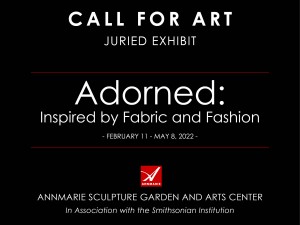 Deadline : Jan 02, 2022
Awards: Cash Awards for Juror's Awards
Annmarie Sculpture Garden & Arts Center invites emerging and established artists to submit original artworks to the juried exhibition 'Adorned: Art Inspired by Fabric and Fashion'. This is a national juried exhibition. All media welcome; small to large-scale works; cash awards. 'Adorned: Art Insp...
View details
ONGOING
Awards: Three "juror awards" will be selected for a small monetary award ($100 each); and awarded work will be featured on the ARC website.
In January 1973, Roe v Wade dramatically extended women's options for bodily autonomy. Notwithstanding, women's bodies remain a battleground – not just around reproductive health, but in myriad other areas, including (but not limited to) decisions around consent, safety, employment and beauty. Roe v...
View details