Evelyn Duberry
Ottawa Ontario, Canada
I'm a self-taught glass bead (or lampwork) artist. I make my beads one by one with a torch and each reflects my inspirations, thoughts and moods at a particular moment in time. Handmade glass beads have been around for centuries and have historically been a valuable source of trade as well as a luxuriously intimate form of personal adornment. They have the grandeur and detail of a large piece of art but can fit into a hand, pocket or lay warming against the skin strung on a cord. They reflect the full integration and connection of art to an individual's daily life. My goddess beads especially seem to find owners who connect to them in often surprisingly intense ways.
How and when did you start creating art?
I've always wanted to work with hot glass but never thought it was a possibility until I discovered the community of international lampwork artists on the Wet Canvas and LampworkEtc forums back in 2006. With the support and sharing of these artists, within a few months I learned everything I needed to know to set up a studio in my home and begin to make my own glass beads. Since I melted my first rod of glass, sculpting has come naturally to me so the majority of my beads are shaped by hand rather than being round or pressed. I like the idea of stretching the traditional definition of a glass bead into multiple other forms while still maintaining the hole and with that, the option of wearing it as personal art.
What media and genres do you work in?
My beads are entirely glass – they're a contemporary take on very traditional techniques and no paints or other media are used. I melt glass rods in the torch's flame, shape the design and add decorations also created from glass. I mostly work with glass from the historic manufacturers in Italy and Germany. Lately I've also begun to try some of the additional specialty glass offered by smaller manufacturers in New Zealand and the USA.
Who or what are your influences?
I've always been intrigued by the artwork from various African countries and their deliberately abstract renderings of the artistic vision. At the same time, I also love the starkness of modern art and the often bizarre creations that result. In both art forms, a tree is never just a tree, a person is never just a figure – a slight twist, a simplified line, the absence or addition of… something and suddenly the piece is open to multiple interpretations. Each, in its own way, draws a strong reaction from the viewer. It's never simply did you like it or not - the real question is always: "How did it make you feel?"
'Dark Angels' - This god and goddess set is a custom order I just finished for a wedding gift. The couple getting married is Goth and the client was looking for a non-traditional gift so I tried to incorporate the dark yet glamorous aspect of that lifestyle into the beads. They are completely one of a kind so I hope they fit the bill. For inspiration, I researched Goth culture and weddings and found one picture that particularly appealed to me: a young woman in a futuristic black leather outfit with huge metal-tipped wings behind her. It was cool, classy, looked like a lot of fun to wear and inspired the wings and the colouring of this pair of beads.
Describe your creative process?
I wish I could. I'm not one of those people that can plot a design and then create it. When I sit at the torch I'll have a general idea of what I want to make but my mood at that time, inner muse and the "glass gods" take over and I'm more often than not surprised at what I finally create – sometimes pleasantly so – other times? Not so much. Since I can't see the design when the glass is hot, I'm never sure if the bead was successful until the next morning when I take it out of the kiln. Here's a simplified explanation of the process: http://shebamakeda.com/my-glass-beads/ As my skill and control in manipulating molten glass continue to develop, I expect my ability to create more complex beads will also increase. It's a fun ride, however, from day to day I have no idea where lampworking will take me next. I think that's one of the best parts of working with hot glass – that and playing with fire of course!
What are you working on currently?
Right now, I'm still fascinated by sculpting goddesses and manipulating their shapes. I minimize and/or exaggerate various body parts and constantly look for new ways to express the essence of the female form in its purest beauty. I do experiment with other shapes and designs but always come back to making goddess beads.
What are your near/long term goals as an artist?
I'd like to work on interactive framed pieces using my glass. I've only made one (so far) but I'm hoping to have a couple more by the end of the summer. My goal is to create pieces that aren't just hung on the wall and admired from afar but can be picked up and intimately experienced much like a glass bead. To me, the emotions (positive or negative) that arise from interacting with any of my art pieces are an integral part of the process.
Where can people view/purchase your work (gallery, website, etc)?
My work can be viewed on the "My Glass Beads" page on my site: www.ShebaMakeda.com and purchased by contacting me directly. I also accept custom orders. I hope to have some beads listed in my Etsy store (http://ShebaMakeda.etsy.com ) shortly as well.
Additional Information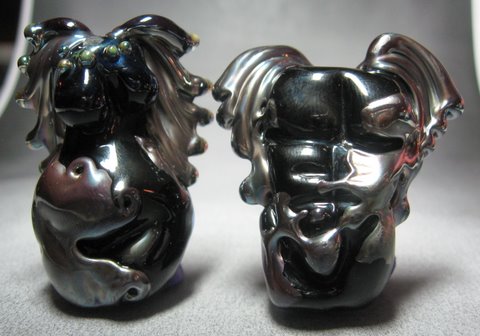 Dark Angels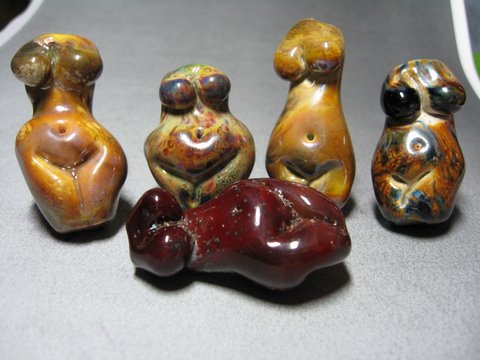 Earthy Goddesses
Pregnant Lime Fizz goddess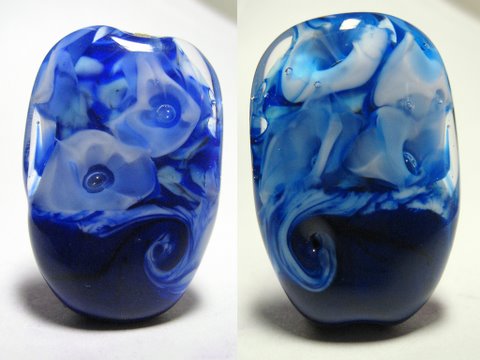 River Garden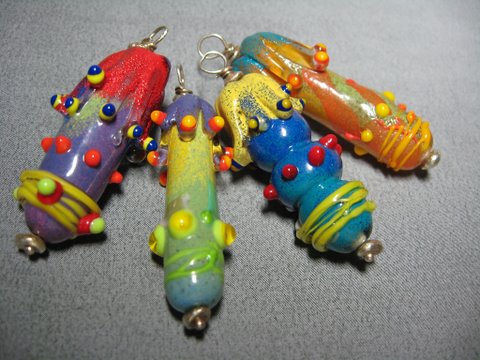 Secret Garden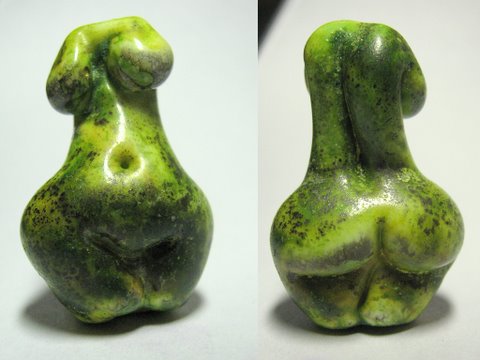 Woodland Moss goddess
All Images @ Evelyn Duberry
All Rights Reserved
Artist of The Month Archives: