Toni Silber-Delerive
New York, New York
Born in Philadelphia and a New York based artist and graphic designer, Toni Silber-Delerive received a Bachelor of Fine Arts degree in painting from the Philadelphia College of Art before studying at the School of Visual Arts and the Parsons School of Design. Her work is represented in private and corporate collections and has been in many exhibitions. Having established herself as a graphic designer working in the creative departments of major New York design studios, Silber-Delerive ultimately formed her own marketing communications firm, ToniDesign. Today she still does work for selected clients, but has switched her main focus to painting.
How and when did you start creating art?
I always knew that I wanted to be an artist. Once in high school, art became my subject major and later I attended an art college on a scholarship. In fact, it was never really a career choice, rather a passion I was lucky to be born with.
What media and genres do you work in?
Oil and Acrylic for now but I'd like to consider others. One genre I am still exploring in depth is the aerialscapes that I talk about and present here. Another is my figurative work often based on images of my family. I work on stylized impressions of the period or the persons, juxtaposing strong colors combined with graphic but soft-edged shapes to convey a feeling of time, place and individuality.
Who or what are your influences?
My influences are the world around me. I derive each and every idea and image from something I see, dream, touch or observe. Several of my teachers and many artists influenced me. Among them Richard Diebenkorn for his distinctive hard-edge abstractions and Edward Hopper when I work on figurative paintings.
What attracted me in "Carnival" was the way vivid colors and swirling shapes had the power to reflect the energy and joy associated with the youthful activities of an amusement park. By flattening the picture plane the aerial perspective reduces the details to a strong graphic image. It combines elements of abstraction and representation, pattern and grid, surface and illusion, as well as observation, imagination, and memory, ingredients I'm always looking for.
Describe your creative process?
Whether on an airplane or at the top of a building, I'm always on the lookout for images that reflect the world around me and have the potential to tell a story about their location or their relationship between man-made and natural, agrarian and industrial, labor and leisure. Some of the locations are specific like the Lyons, France airport or have the feeling of their community like Manhattan rooftops. I then try to extract the graphic essence and use my color sensibility to pull the composition together.
What are you working on currently?
A series of small 12 and 16 inch square paintings for my Washington, DC gallery. I'm also expanding the concept of aerials by dissecting them and am also curious about entirely different subjects like food, always on the lookout for new interpretations.
What are your near/long term goals as an artist?
My main goal as an artist has always been and will remain to keep growing and exploring. I am currently working towards abstracting my style.
Where can people view/purchase your work (gallery, website, etc)?
I update www.tonisart.com quite often. People should send an email to toni@tonisart.com with "add to mailing list" in the subject line to receive emails about future exhibitions and updates to the website. Also, there are prints of many of the paintings on the site available. Please contact me for more information.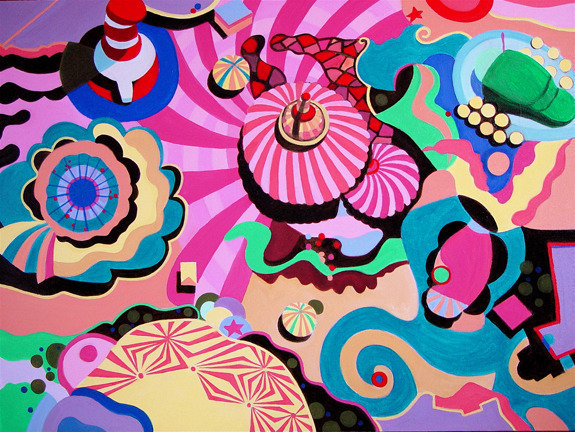 Carnival, oil on canvas, 48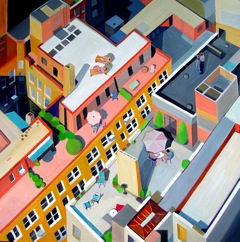 Manhattan Rooftops, oil on canvas, 48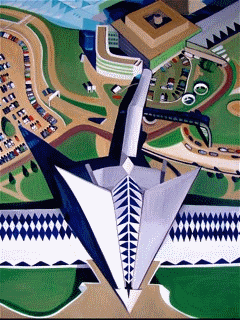 Aéroport et Gare, Lyon, France oil on canvas, 36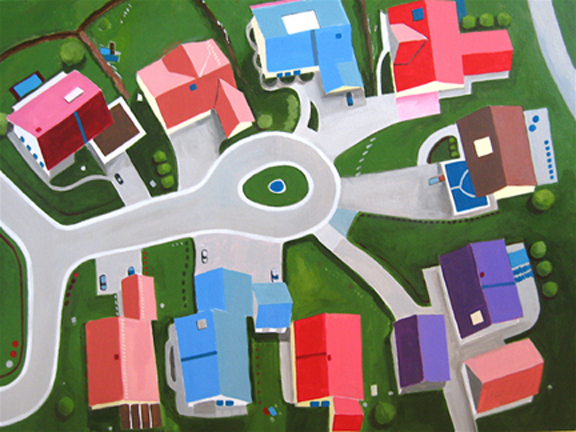 North Virginia cul-de-sac, acrylic on canvas, 40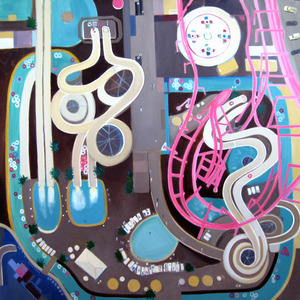 NJ Water Park, oil on canvas, 36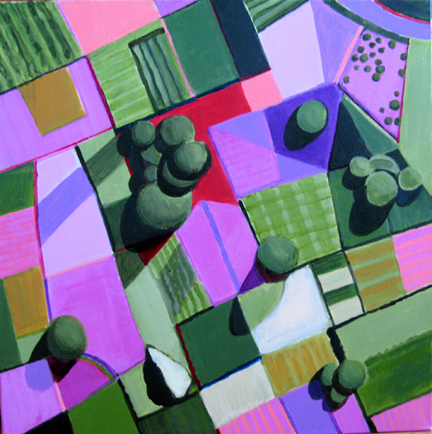 Pink and Green Fields, acrylic on canvas, 24
All Images @ Toni Silber-Delerive
All Rights Reserved
Artist of The Month Archives: